The Endowed Chair is considered a research chair and accordingly is not bound by a curriculum. Instead, cooperative teaching sessions with colleagues from both departments, symposia and conferences are organized and conducted. In 2014, the DML – Designinstitut für Mobilität und Logistik (Design Institute for Mobility and Logistics) was established in the Department of Product Design, together with Prof. Georg-Christof Bertsch and Prof. Peter Eckart.
The Chair is sponsored by the City of Offenbach, Stadtwerke Offenbach Holding GmbH (SOH) and the Dr. Marschner Foundation, Frankfurt/Main, with additional donations from Offenbach's Chamber of Commerce (IHK), Wirtschaftsinitiative RheinMain, Energieversorger Offenbach AG (EVO) and Mainova Frankfurt.
Doctoral candidates
Allegories of the past – The reconstruction of Frankfurt's historic center
Tu­tors: Prof. Hans Zitko, Prof. Kai Vöck­ler
Projects by the Endowed Chair between 2010 and 2014
Analysis of the development momentum of creative milieus in Offenbach
Analysis and visual depiction. Communication in lectures, exhibitions and publications. Teaching sessions in summer semester 2011 in cooperation with Prof. Heiner Blum (Experimental Spatial Concepts) and with Prof. Klaus Overmeyer (Bergische Universität Wuppertal), see also the study produced by Klaus Overmeyer et al. "open OF. Kreativwirtschaft und Stadtentwicklung in Offenbach" (open OF. The creative industry and urban development in Offenbach), 2011.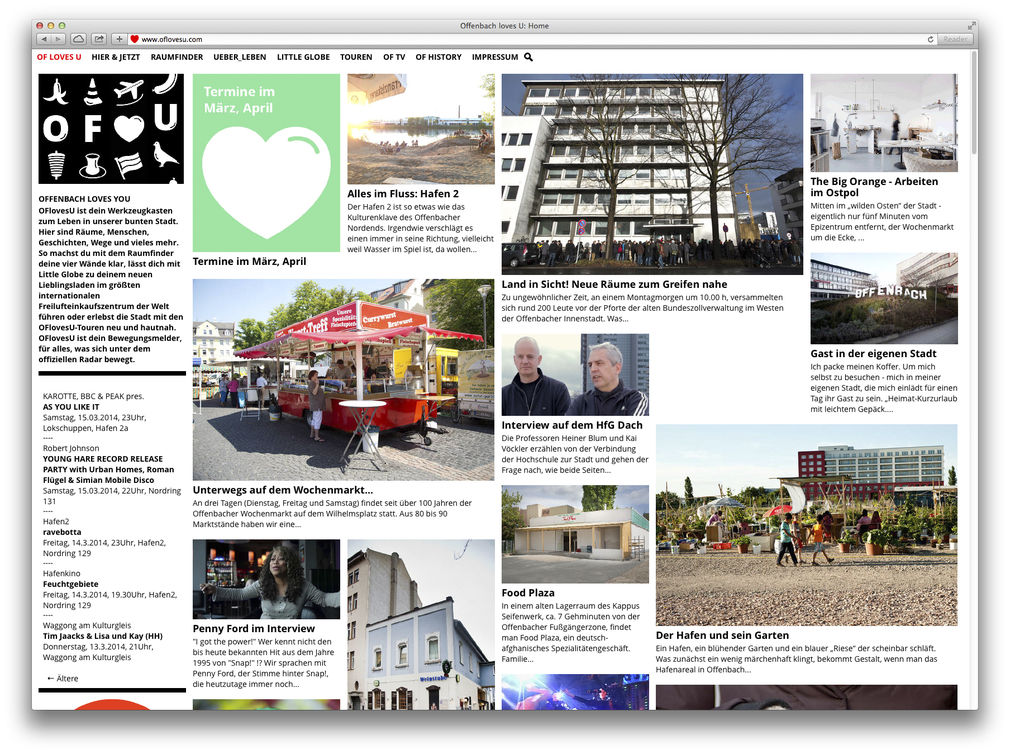 Establishment of the OFlovesU platform
Further development of the communications strategy OFlovesU (Facebook page, initiated by Prof. Stefan Landrock; city tours, developed with Prof. Heiner Blum) in collaboration with urban media projects for the Web platform oflovesu.com in cooperation with Prof. Heiner Blum and Prof. Eike König. This extremely successful communication platform (including the space finder program that finds places to study for students and creative professionals) is currently being expanded to include information for young families on the availability of childcare and schools.
Architektursommer Rhein-Main 2015 (Rhine-Main Summer of Architecture 2015)
Development of the cultural format Architektursommer Rhein-Main in the cities of Frankfurt, Offenbach and Wiesbaden. Founding member of the association responsible, Architektursommer Frankfurt Offenbach e. V. Spokesperson for Architektursommer Rhein-Main since 2011. International workshop at Deutsches Architekturmuseum (DAM) on the RheinMainBand (Wiesbaden/Mainz and Frankfurt/Offenbach), April 7 to 10, 2014; exhibition of the results at DAM (May 20 to June 9, 2014). Concepts for the Kaiserlei area along the River Main on the boundary between Frankfurt and Offenbach were developed by the architecture studios Superpool (Istanbul), AWP (Paris), URBED (London) and feld 72 (Vienna). Implementation in September 2015.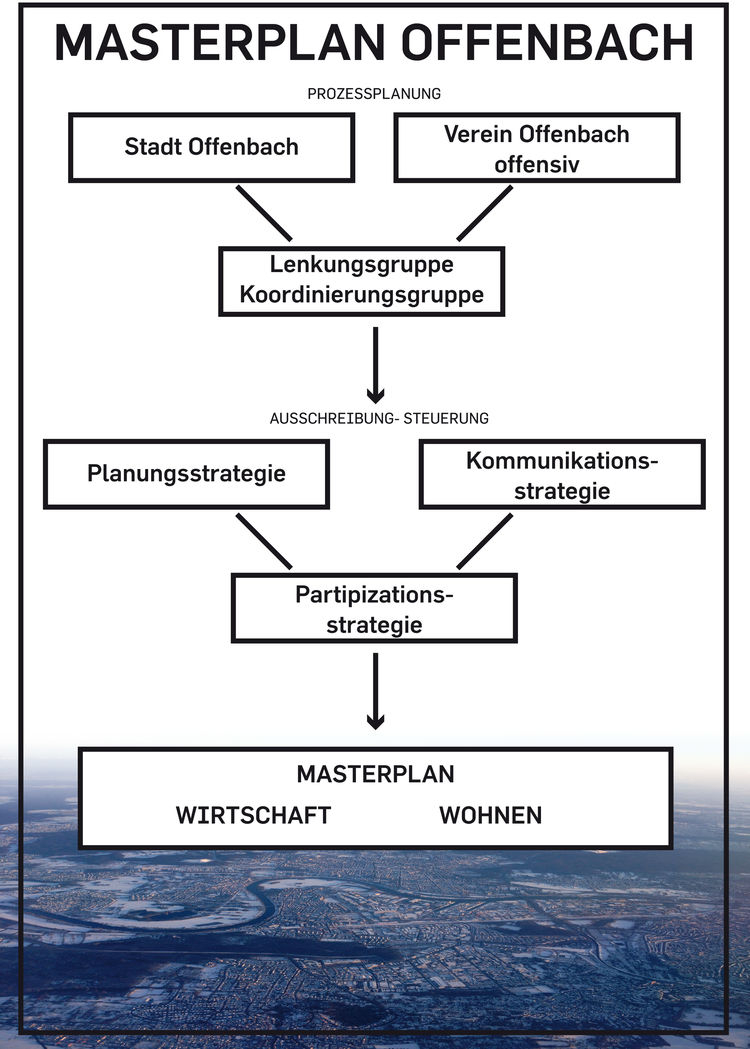 Preparation of "Masterplan Offenbach"
As a representative of HfG Offenbach, a founding and board member of the association "Offenbach offensiv" with the aim of preparing a master plan for Offenbach (at the initiative of IHK, Offenbach's Chamber of Commerce). Member of the steering committee and coordination group for Masterplan Offenbach, permanent member since 2012. The focus of this master plan is on attracting both companies and high-income population brackets, a change of image is also considered important. Development of fundamental conceptual components such as a focus on the above-mentioned objective and on the methodological approach of combining a planning and communications strategy (innovative planning process).
Offenbach as a creative city
Networking in the region (lectures, exhibitions, such as Hessen Design in October 2012) and national visibility (lectures, integration of Offenbach into research projects such as the "Baukulturatlas Deutschland 2030/2050" as one of the towns selected as examples; in progress). Publications and lectures; concept for and realization of the conference "Die kreative Stadt – Marketingzauber oder Entwicklungsressource?" (The creative city – marketing trick or development resource?, HfG, February 3, 2012).
Cooperative teaching sessions
Examination of Offenbach in cooperative teaching sessions at HfG Offenbach, for example, the seminar "Complementing the city" with Prof. Heiner Blum in summer semester 2013 or the Diplom project (subsidiary subject) on a children's book on Offenbach (supervisor Prof. Klaus Hesse), 2014. Cooperative teaching sessions on Offenbach, partly with colleagues from other universities (Bergische Universität Wuppertal, Technische Universität Darmstadt, Architectural Association London).
Future lab HfG Offenbach
Strategic deliberations on HfG Offenbach as the nucleus of creative development in the city of Offenbach with regard to plans for new buildings, integration into HfG Offenbach's future lab.