7 July until 27 July 2019
Architecture and Urban Design Summer School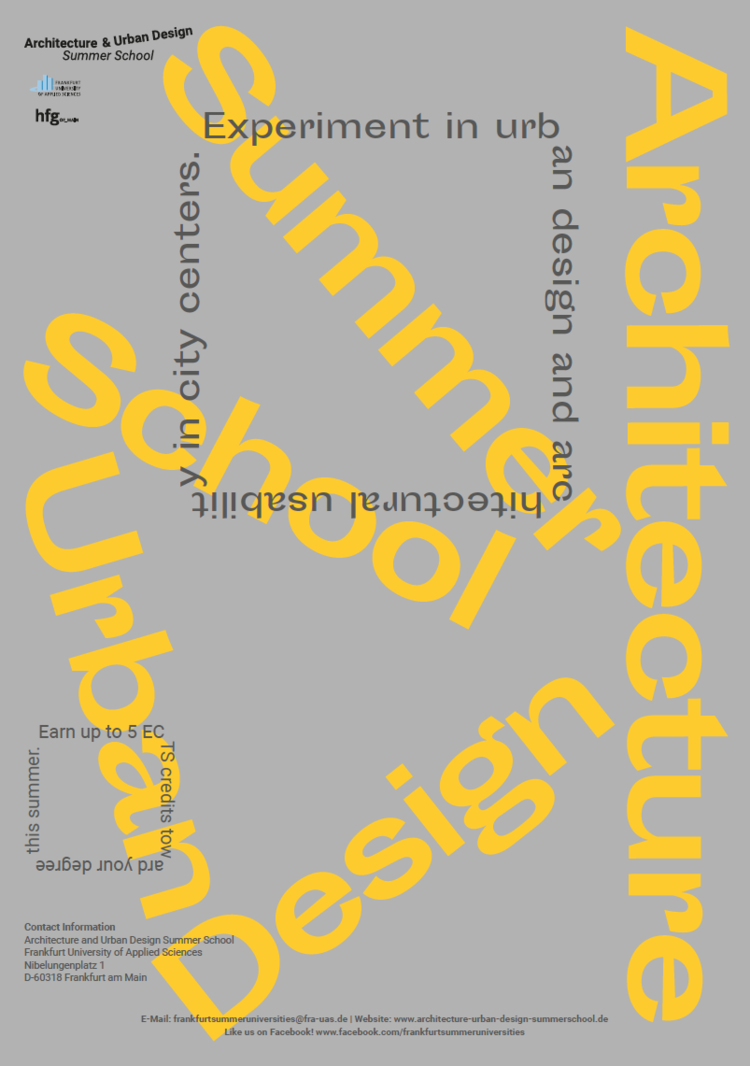 Architecture and Urban Design Summer School
July 7 – July 27, 2019
The Hochschule für Gestaltung Offenbach, University of Art and Design, and Frankfurt University of Applied Sciences are offering a joint summer school in 2019. Using the city centers of Frankfurt and Offenbach as examples, summer school students will examine and compare the usability of urban spaces by different groups. Students will study the historical origins of these spaces in both cities and explore the needs that public spaces should satisfy. During the summer school, students will analyze spatial definitions, structures, design and usability in comparison with corresponding situations from their home countries.
The summer school is taught entirely in English and designed for international students.
What's included?
Three weeks of academic courses, workshops and site visits, and an exciting cultural program including an excursion to Germany's capital, Berlin. Accommodation, insurance, and transportation around Frankfurt and Offenbach are also included in the program fee.
How do students apply?
Applications for the Architecture and Urban Design will be open starting January 1, 2019. Students can download the application form on our website.
To learn more about our summer school, please visit www.architecture-urban-design-summerschool.de or contact us at frankfurtsummeruniversities@fra-uas.de
Like us on Facebook.
In a nutshell
Designed for international students and taught entirely in English, our summer school combines:
Lectures, workshops, and site visits in Frankfurt and Offenbach
Excursions around Germany
A fun cultural and social program
What is included in the program?
3 weeks of academic courses and workshops
5 ECTS credits
Site visits and excursions
Extracurricular activities
Accommodation
Insurance covering illness, accidents, and personal liability
Public transportation within Frankfurt and Offenbach
Application deadline
May 31st, 2019
Contact Information
Architecture and Urban Design Summer School
Frankfurt University of Applied Sciences
Nibelungenplatz 1
D-60318 Frankfurt am Main
​