Features
OUT NOW: Diplommagazin 2019
50 Jahre Kunsthochschule des Landes Hessen
1 January until 31 December 2020
Lecture-free period
17 February until 20 April 2020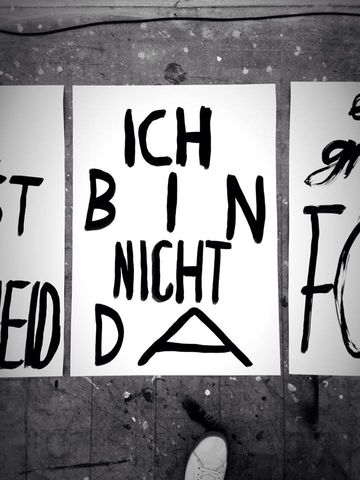 News
3 days ago
Die Corona-Krise trifft die Kreativ- und Kulturbranche besonders hart. Auch die Kunst- und Designstudierenden der HfG Offenbach sind stark betroffen. Vielfach sind sie bereits während des Studiums als Selbständige und Kleinunternehmer_innen unterwegs, um ihren...
26 days ago
Corona pandemic measures
Here you will find information, measures and regulations of the HfG Offenbach in dealing with the corona crisis. All members of the university receive this information by e-mail as a newsletter. Please check your mailboxes regularly. This page is updated regularly.
4 months ago
The future lies in new forms of mobility: Instead of owning a car it will be easy to use a host of different forms of transport. Mobility will become a service and will tend to be perceived not as an object and more as an intangible event. In future, digital and platform-based...
6 months ago
New Professor of Sculpture
On 1 October 2019, the Frankfurt-based artist Mike Bouchet was appointed Professor of Sculpture in the School of Art.
6 months ago
Book Presentation: Culture in the wake of National Socialism
At the HfG Offenbach the book »Offenbach am Main. Kultur im Sog des Nationalsozialismus« was presented. The study by historian Dr. Andreas Hansert was commissioned by the city of Offenbach and the HfG Offenbach.
11 months ago
Call for applications: Professor_in for the subject Communication Design
At the Hochschule für Gestaltung Offenbach am Main(HfG), the art university of the state of Hesse, there is an Professorship (BesGr. W3) in the field of communication design for an initial period of 6 years.
1 year ago
THE ARTS+ and B3 Biennial agree strategic partnership
THE ARTS+ Future of Culture Festival, which takes place annually as part of the Frankfurter Buchmesse, and the B3 Biennial of the Moving Image have agreed to enter a strategic partnership. Both events will take place from 16 to 20 October 2019.
1 year ago
Meanwhile in India
Prof. Peter Eckart and Julian Schwarze, research assistant at the HfG, were guests at the India Institute of Technology (IIT) Roorkee with a workshop on Mobility Design.
Calendar
Events
10 July until 12 July 2020