25 September until 29 September 2023
Autumn School: A CABBAGE, A WOLF AND A SHEEP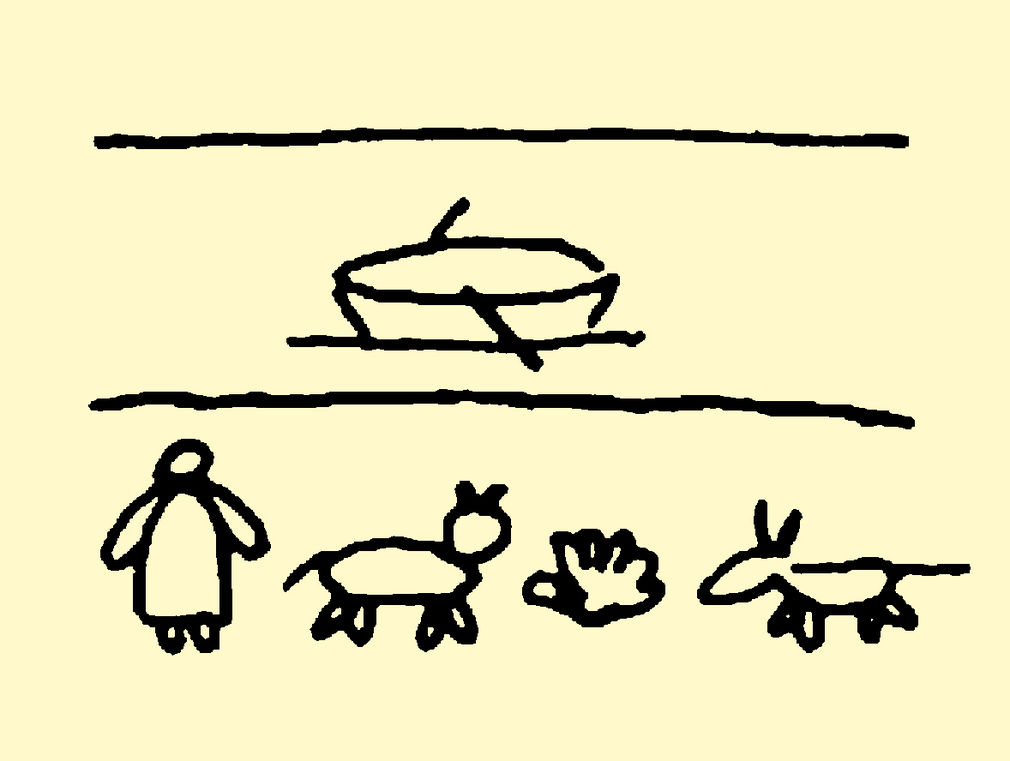 Autumn School: A CABBAGE, A WOLF AND A SHEEP
Gruppo Due (Bruno Jacoby, Massimiliano Audretsch, Moritz Appich)
How would you visualize a story without letters? What would you create to tell your story? Would you take an image or rather make a symbol? Would you draw it by hand or use vector paths? Is one symbol enough or do you need a series of images? What is the syntax?
Visual narratives often function with tokens as abstraction of realities and all kinds of concepts. Visual narratives target a certain audience and often ignore those with different cultural backgrounds. Visual narratives rely on the fictional potential of different combinations:
The workshop A CABBAGE, A WOLF AND A SHEEP introduces the methods of typographic ligatures as a tool to create visual narratives beyond mere letters. Aiming for a collective realm made possible by the combination of different personal symbols and their ligatures, the workshop develops a collective sign system in which the symbols and images can perform and interact with one another. The whole might be more than the sum of its parts.
The workshop is accompanied by a panel discussion on Monday, September 25th, with talks by N.N, N.N. and Gruppo Due. On Friday, September 29th, 17:00 the workshop will be concluded with a ligaturial stage performance as the precursor of a publication and a petite aperó.
​
Organisiert von Catrin Altenbrandt, Adrian Nießler, Eike König, Johanna Siebein.
WEEK STRUCTURE
MONDAY, 25th
MORNING
• Kick-Off
AFTERNOON
• Panel
TUESDAY, 26th
MORNING
• Input gestalterisches Potential von Nicht-Lettern
AFTERNOON
• Free work session
• Open feedback
WEDNESDAY, 27th
MORNING
• Interim presentation
• Discussion
AFTERNOON
• Input Glyphs
• Free work session
THURSDAY, 28th
MORNING
• Open feedback
• Free work session
AFTERNOON
• Free work session
FRIDAY, 29th
MORNING
• Finalization
• Collecting of materials for publication
AFTERNOON
• Ligaturial stage performance
• Aperó