6 December until 8 December 2019
Backwards upstairs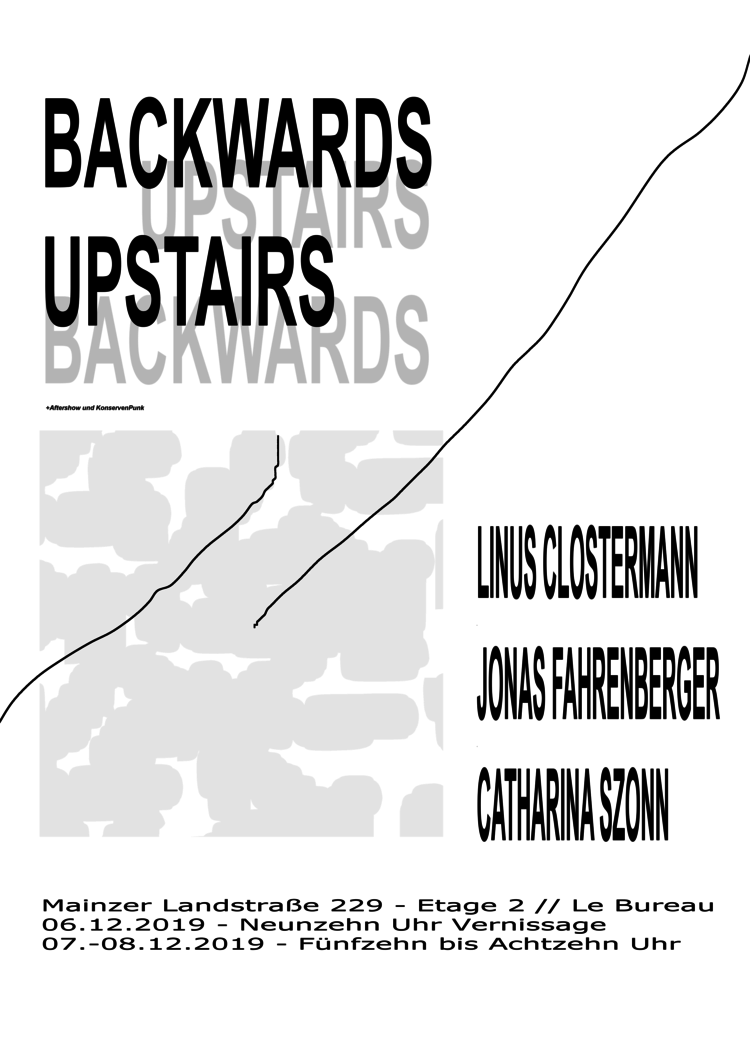 Together with HfG-Alumna Catharina Szonn and Linus Clostermann, a sculptor from Kassel, HfG student Jonas Fahrenberger exhibits in an off-space show in Frankfurt's Galusviertel.
Exhibition
In the exhibition BACKWARDS UPSTAIRS, between the main railway station, toy libraries and gentrification, access opens up to a parallel world in which a diverse and exciting materiality defines the space. The works of the artists Catharina Szonn, Jonas Fahrenberger and Linus Clostermann open up the empty office space in a variety of ways and enter into dialogue with one another.
In her material collages, Catharina Szonn processes everyday objects that are detached from their original surroundings and yet in a strange way create an atmosphere that moves between restlessness and homeliness.
In his works, Jonas Fahrenberger makes use of symbols, icons and objects from various strata of society and mounts them in a constructed field of tension between concrete everyday reality and a smooth illusory world.
Linus Clostermann's objects create their own reality through their strange familiarity, in which the origin of the material is difficult to recognize.
In BACKWARDS UPSTAIRDS the works of the three artists are in a twisted symbiosis, in which different materials meet, confront and complement each other.
Opening
6 December 2019, 7 pm
Opening hours
Sat + Sun 3–6 pm
​
Mainzer Landstraße 229
2nd Floor, Le Bureau
60326 Frankfurt am Main