6 December until 8 December 2019
endless summer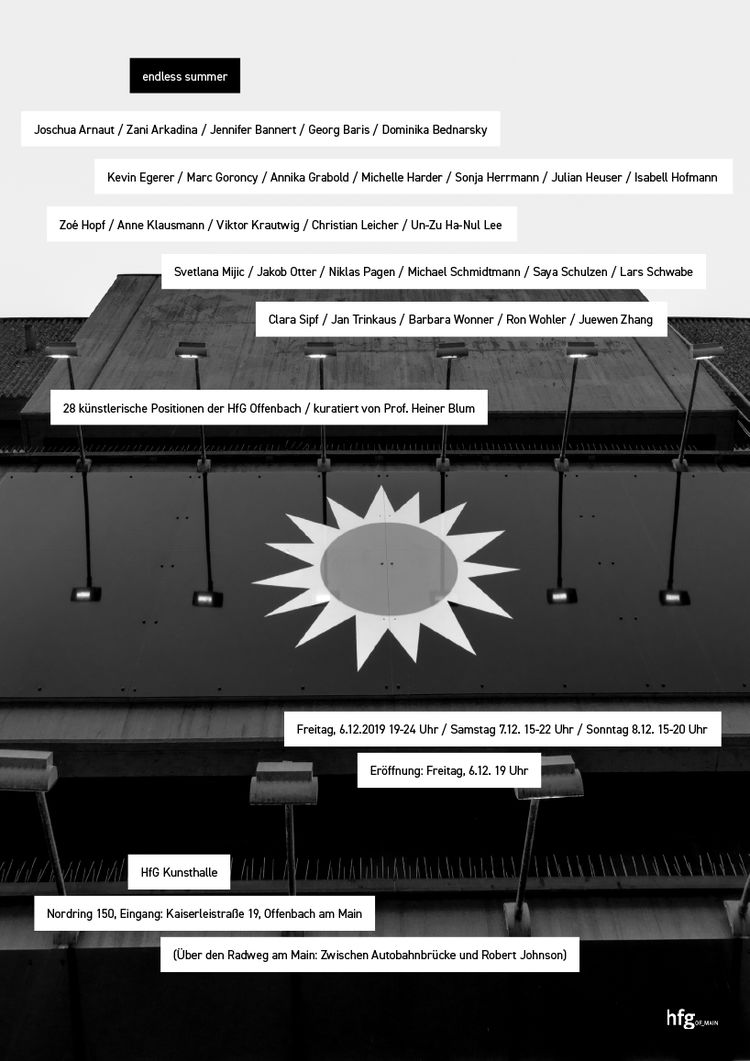 endless summer
28 artistic positions of the HfG Offenbach / curated by Prof. Heiner Blum
Every new generation of artists seeks and finds their voice. A university offers the shelter to orient oneself and to organize one's own creativity. In experiments, new paths and perspectives emerge between conceptual and intuitive action.
At the end of the year 28 students of the Hochschule für Gestaltung will present a selection of their works in the HfG-Kunsthalle in Offenbach harbour. On show will be conceptual drawing, painting, photography and sculptural groups of works that are exemplary for larger work designs.
endless summer is a snapshot of the ripening of artistic works, which creates a perspective on everything that pictures are today and could be tomorrow.
Artists
Joschua Arnaut / Zani Arkadina / Jennifer Bannert / Georg Baris / Dominika Bednarsky / Kevin Egerer / Marc Goroncy / Annika Grabold / Michelle Harder / Sonja Herrmann / Julian Heuser / Isabell Hofmann / Zoé Hopf / Anne Klausmann / Viktor Krautwig / Christian Leicher / Un-Zu Ha-Nul Lee / Svetlana Mijic / Jakob Otter / Niklas Pagen / Michael Schmidtmann / Saya Schulzen / Lars Schwabe / Clara Sipf / Jan Trinkaus / Barbara Wonner / Ron Wohler / Juewen Zhang
Opening
6 December 2019, 7 pm
Opening hours
Fri 7–12 pm, Sat 3–10 pm, So 3–8 pm
​
HfG-Kunsthalle
Nordring 150
Entrance: Kaiserleistraße 19, Offenbach am Main
(Via the cycle path on the Main: Between the motorway bridge and Robert Johnson)