11 February 2019
kurz & knapp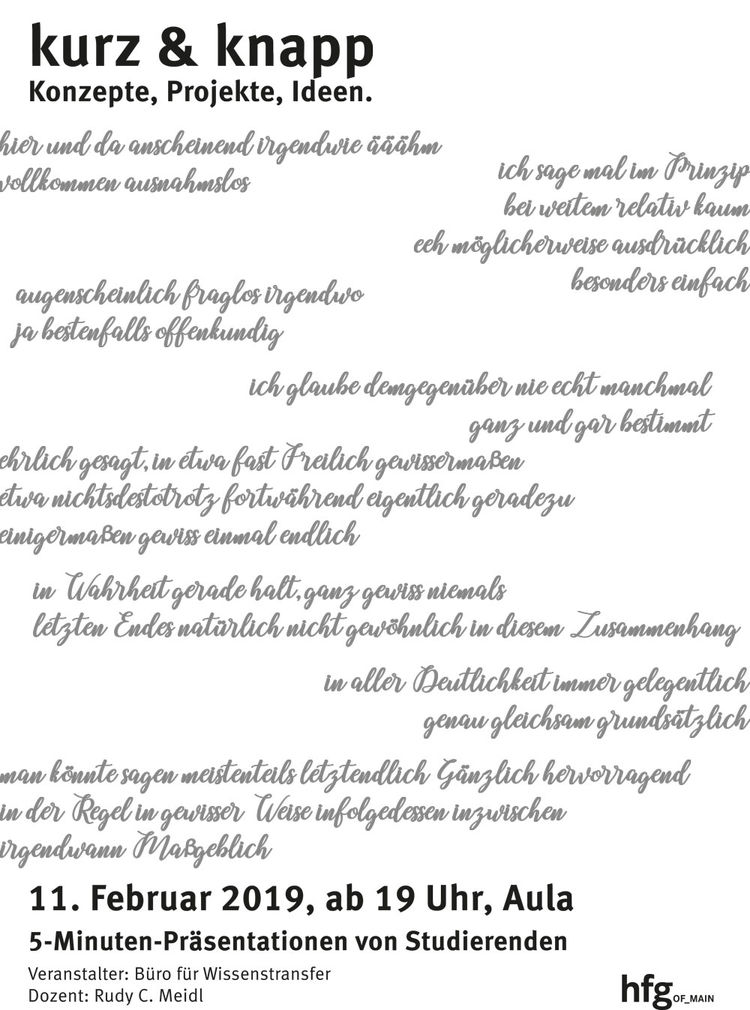 kurz & knapp
Concepts, projects, ideas.
Comparable to a Pecha Kucha Night, »kurz & knapp« presents lectures by students with a maximum length of five minutes but unlimited number of pictures. The topics of the individual contributions from the fields of art and design are freely chosen: a planned foundation, a new product idea, an exciting project.
»kurz & knapp« shows the results of a two-part workshop on the topics of presentation, communication and motivation under the direction of Rudy C. Meidl, who will also moderate the evening after a welcoming address by Prof. Dr. Kai Vöckler.
With lectures by
Judith Block, Michel Bütepage, Magali Delion, Julie Gaston, Tania Felske, Michelle Harder, Janika Jyrmann, Christian Leicher, Hanna Lompa, Valentin Oehlers, Faina Yunusova
February 11, 2019, 7pm
Auditorium of the HfG
​
An offer in the context of vocational preparation at the HfG Offenbach.
Vortragende
Judith Block
… erklärt zusammen mit ihrem Partner David auf ungewöhnliche Weise, wie erfolgreiches Teamwork funktioniert
Michel Bütepage
… berichtet von einer bemerkenswerten Entdeckung während eines mehrmonatigen Londonaufenhaltes
Magali Delion
… wirft ihren ganz persönlichen Blick auf das Wesen der Dinge
Julie Gaston
… präsentiert die Ergebnisse einer von ihr durchgeführten Online-Umfrage
Tania Gotschi
… demonstriert nachhaltig wie jeder von uns Plastikmüll vermeiden kann
Michelle Harder
… stellt uns ihre künstlerische Arbeit vor - eine Verbindung aus Skulpturen, Installationen und Poesie
Janika Jyrmann
… weist auf einen häufig unbekannten Aspekt zwischen unserer Kleidung und Umweltverschmutzung hin​
Hanna Lompa
… beweist, dass Studierende auch ausserhalb der Hochschule (ent)spannende Aktivitäten entwickeln
Valentin Oehlers
… hält selbst für eingefleischte Cineasten neue Erkenntnisse über das Filmemachen parat
Faina Yunusova
… nutzt soziale Medien, um Veränderungen herbeizuführen