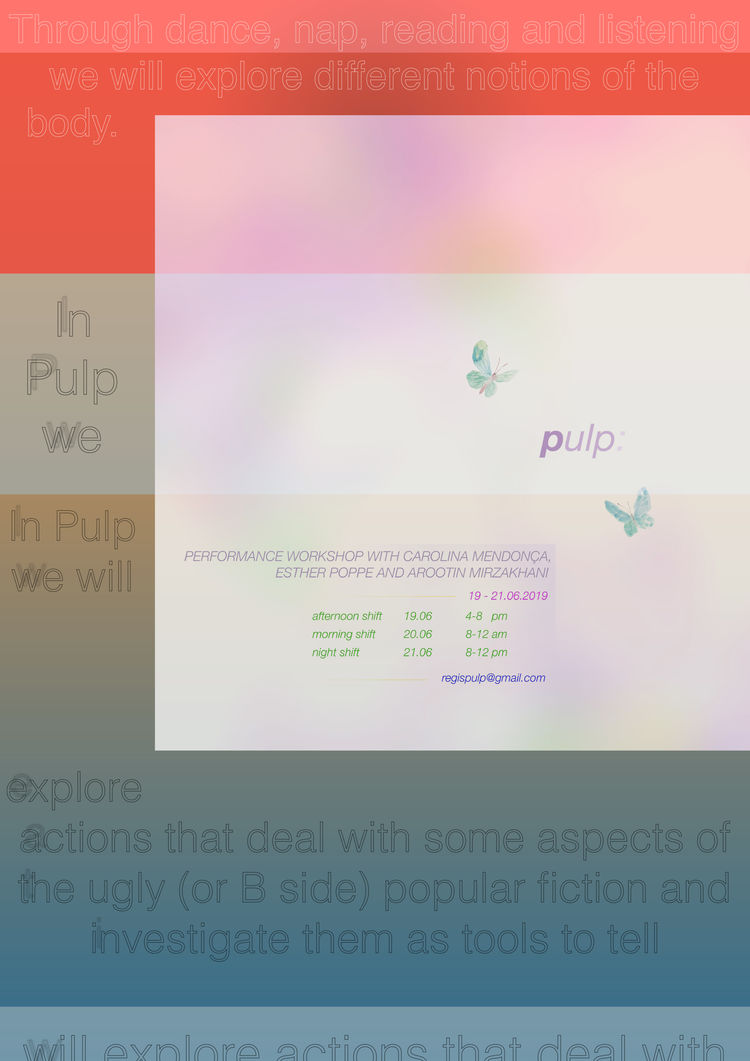 Our student Arootin Mirzakhani and our graduate Esther Poppe invited Carolina Mendonça to host a workshop. Her background is in dance and performance.
Introduction
In Pulp we will explore actions that deal with some aspects of the ugly (or B side) popular fiction and investigate them as tools to tell alternative stories. Taking all realities as half finished we will squeeze the idea of time in the attempt to create a soft, juicy and moist space for discussion and experimentation. This class shares non-hegemonic practices such as telepathic movement, remote viewing, deep listening, hypnoses, naps among others. It is a practice in itself and it is also making visible a network of artist and researches that are dealing with these narratives. Through dance, nap, reading and listening we will explore different notions of the body.
It will be a 3-day workshop next week - different times and different locations. You do not have to come to all 3 of them, but 2 are necessary to go through the practices and exercises. No pre-experience is required. The workshop will take place in Offenbach in the proximity of the HfG locations will be announced asap when you've registered.
If you are interested, please write back and register under regispulp@gmail.com.
19 June, 4 –8 pm, afternoon shift
20 June, 8 –12 am, morning shift
21 June, 8 –12 pm, night shift