11 July 2019
Screening: At Berkeley
07:00 PM, Isenburger Schloss, rechte Kapelle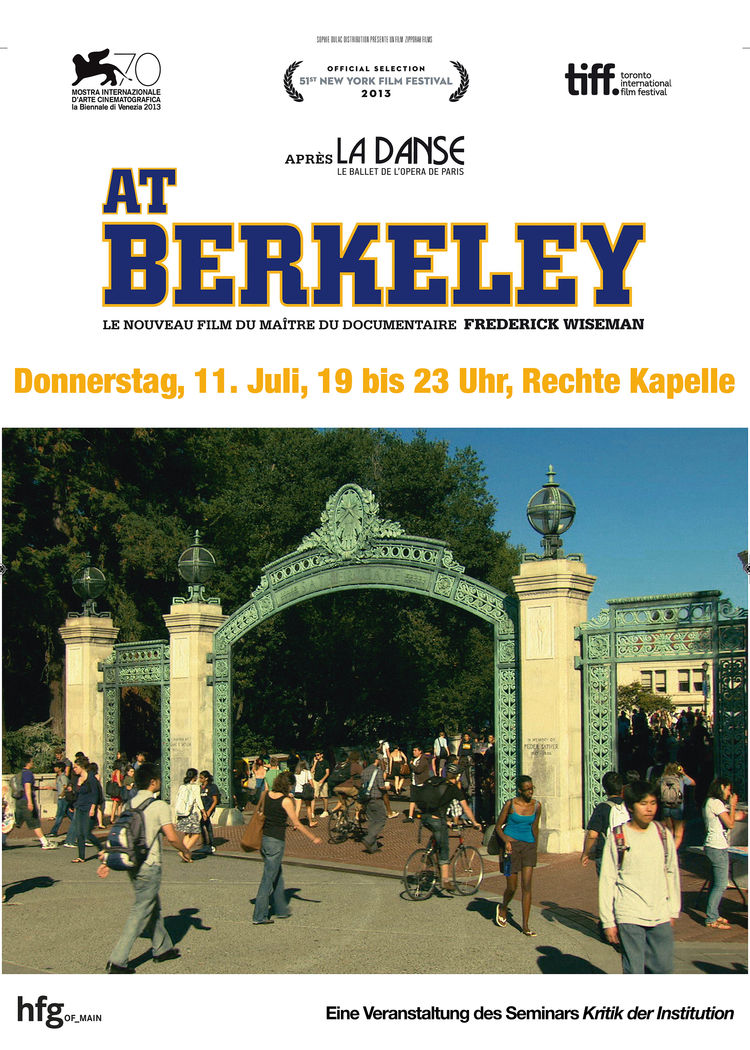 As part of the seminar »Critique of the Institution: Hochschule für Gestaltung« by Marc Ries the documentary film »At Berkeley« (USA 2013) by the great Frederick Wiseman will be shown. For anyone who has always wanted to go to Berkeley, or who wants to know more about the subtle differences between American elite universities and German educational institutions such as the HfG!
About the film
The University of California at Berkeley, the oldest and most prestigious member of a ten campus public education system, is also one of the finest research and teaching facilities in the world. The film, AT BERKELEY, shows the major aspects of university life, its intellectual and social mission, its obligation to the state and to larger ideas of higher education, as well as illustrates how decisions are made and implemented by the administration in collaboration with its various constituencies.
​
In AT BERKELEY we witness the autumn 2010 semester at a university in crisis, yet thriving. Mr. Wiseman uses the institution's settings—the meetings, classes and protests—as stages to play out its multifaceted drama of people and ideas.
–Nicolas Rapold, New York Times
​
Frederick Wiseman's AT BERKELEY isn't only a study of the contemporary American university, but, like all of the filmmaker's best documentaries, a wide-ranging inquiry into the larger institutions and contradictions that define life in the United States.
–Andrew Schenker, SLANT
11 July 2019, 7–11 pm
​
Isenburger Schloss, rechte Kapelle