Prof. Alexander Oppermann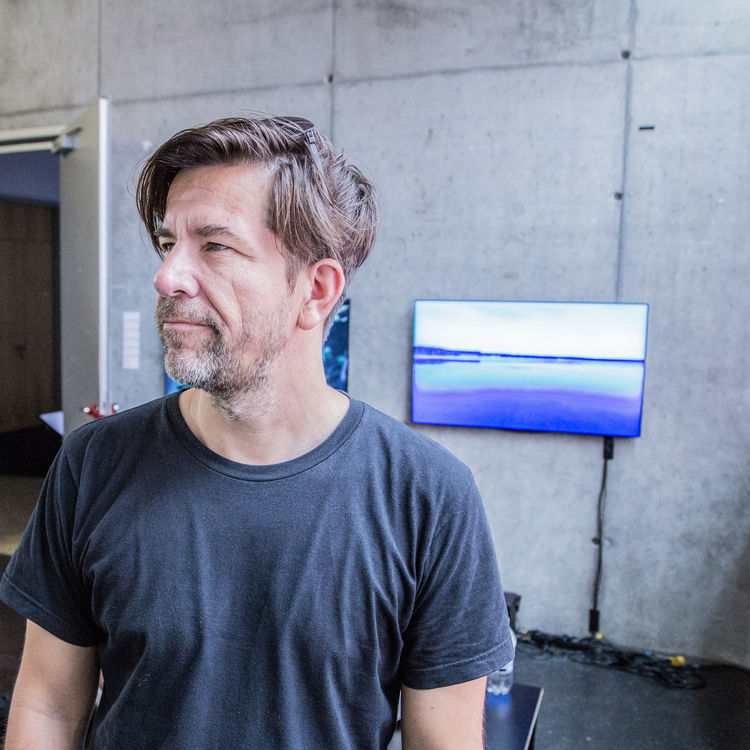 T +49 (0)69.800 59-220
F +49 (0)69.800 59-202
West wing, room D101
Consultation
by appointment
Discipline
Subject/Area
Media
Faculty
Extern
Alexander Oppermann (born 1964) lives and works in Frankfurt/Main. He studied Visual Communications (now School of Art) with a focus on audiovisual media, painting and graphic design at HfG Offenbach. Oppermann has been focusing on electronic media since the 1990s. He has realized various artistic projects with his partner Monika Friebe (also a HfG alumnus) which later led to the establishment of arts and media design office saasfee*, which he co-founded in 1999.
Since 2000, he has been the manager of Saasfee* GmbH, a company that develops international brand concepts, image presentations and events for clients such as General Motors, Ish, General Electric, Red Bull, Philipp Morris and Apple. The company uses applied, commissioned work to finance projects such as the Saasfee*Pavilion exhibition space or the high-rise light sculpture »Illuminated Questions« in Frankfurt's Hochhaus am Turm.
From 2010 onwards, Oppermann has held the Endowed Professorship for Interactive Design/Motion Graphics. Since winter semester of 2013 he has been Professor for Electronic Media at HfG Offenbach.
lluminated questions
Lichtinstallation, 2011
saasfee* transformed the Hochhaus am Turm high-rise and the connected pavilion into a monumental art object. A sculpture spanning 18 stories that complemented downtown Frankfurt as a special architectural light object for six months.
The parts of the building frontage in question were illuminated using projections and lights from inside the building. Changing strings of letters, animations relating to the architecture, color fields and patterns turned the high rise into a monumental gesamtkunstwerk. Every night, illuminated questions were sent out into the city with no other goal than they be seen and answered.
Text piece by: Thomas Friemel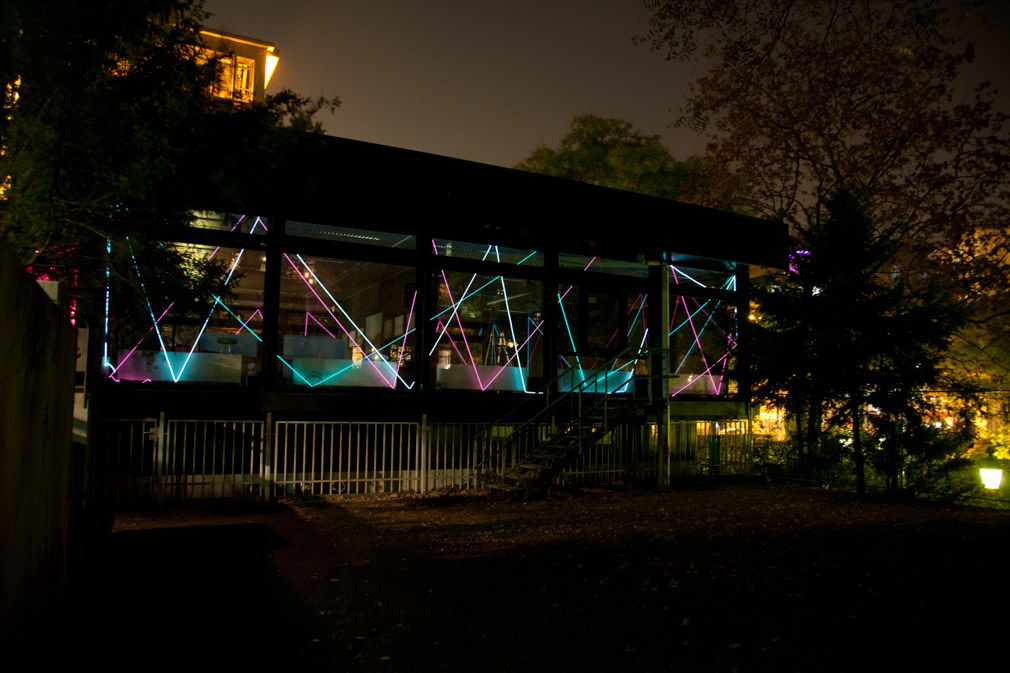 Line-up*
Interactive sound-controlled light installation (2011)
From June 2011 onwards, the entire window fronts of the pavilion served as the backdrop for a specially programmed light installation controlled by music. From then on, the pavilion glowed in a neon robe at night for several months, moving to the rhythm of various concerts and events.
saasfee* at saasfee*pavillon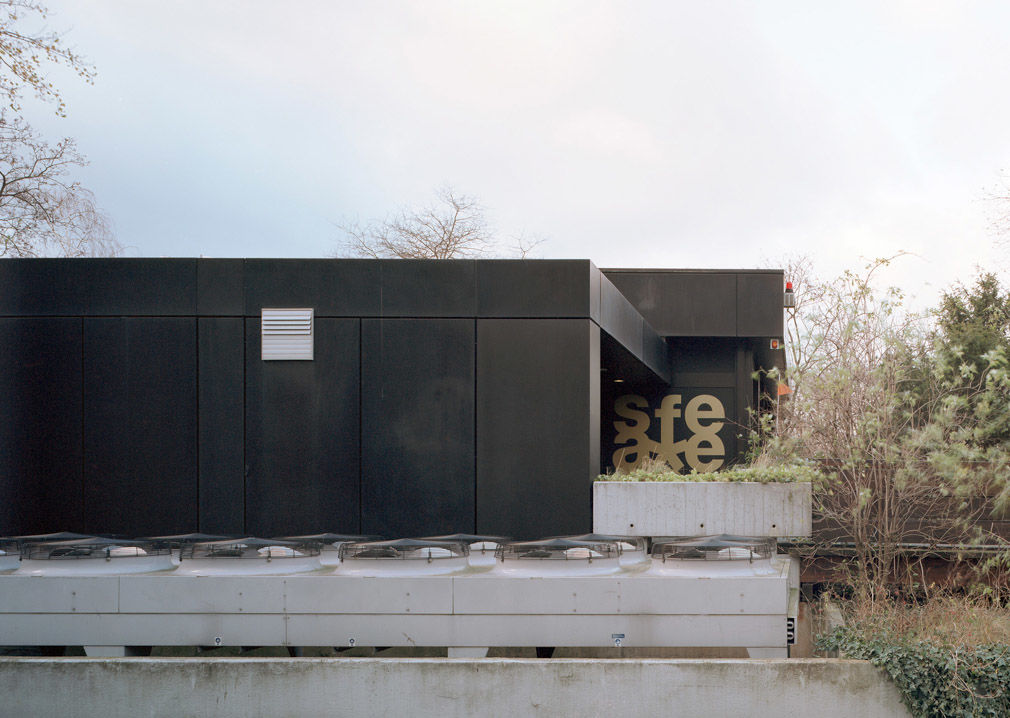 saasfee*pavilion
Artspace // gallery // experimenterrraum (since 2008)
The saasfee*pavilion is an art and exhibition project run by artist collective saasfee*; the space is considered a platform for experimental media and video art, photography, painting and electronic music.
With the pavilion, the idea was born to provide Frankfurt with an open, experimental platform for art, design and music and to strengthen local networks in this area. Since the early 1990s, saasfee* (previously arosa2000) have been initiating artistic exhibition projects and spatial installations that they then themselves realized, providing the opportunity of presenting artistic contributions in a public and decidedly international context.
In autumn 2015 the saasfee* pavilion will be turning seven. Even though originally only planned as a temporary two-month project, the pavilion is now a permanent fixture in Frankfurt's cultural scene. saasfee* still does not pursue a primarily commercial interest with its activities. Experiment and network are core to the program.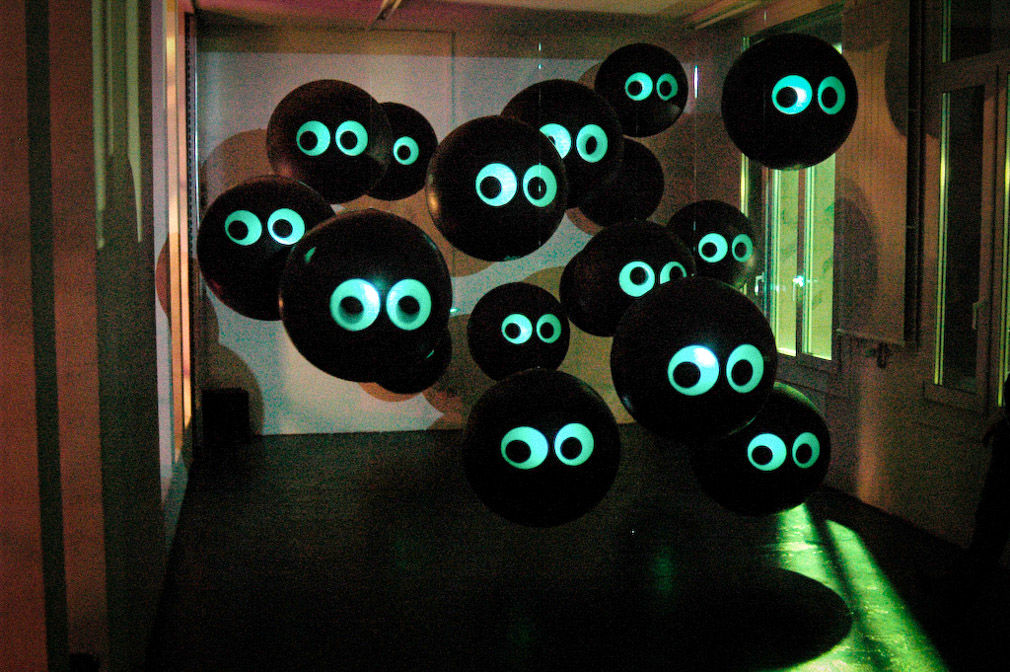 Mikes
Sound activated light installation
audio-visual installation, interaction with visitors (singing, watching, crying, smiling…) exhibition at fri-son, fribourg switzerland and frankfurt. saasfee* programmed realtime 3d-environment, controllable sound synchronisation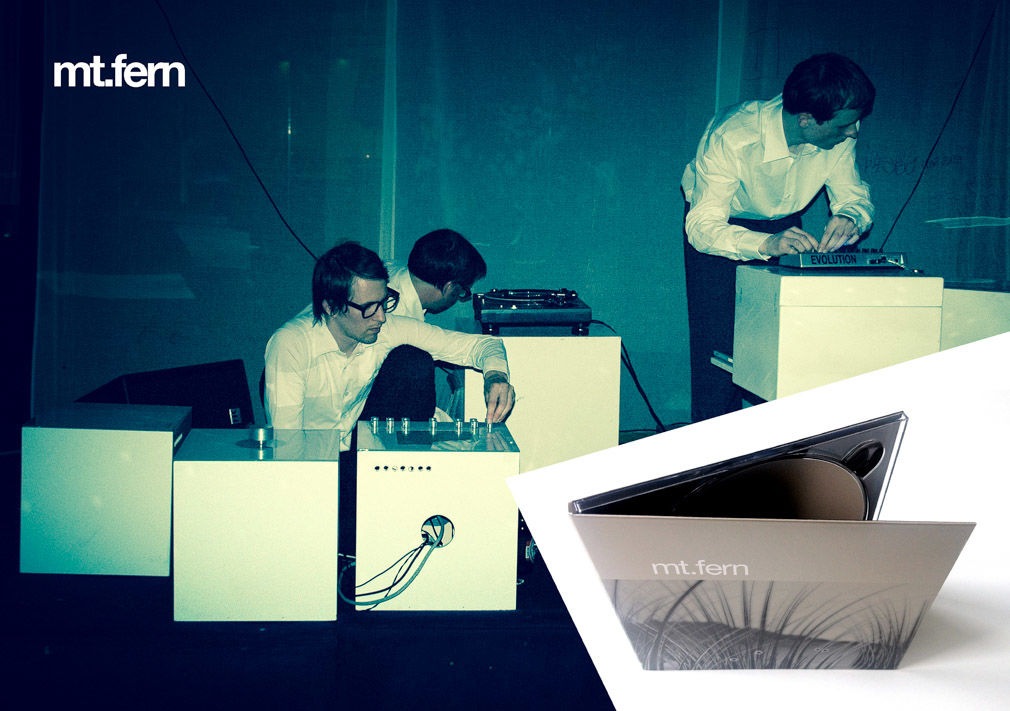 Mt.fern
CD-release // Audio visual sound project (2005)
Mt.fern is the first CD release by saasfee* that the artist group composed and produced themselves. In terms of the group's formation and structure, and the members' penchant for creating new spaces and atmospheres, this release seems a natural step, as music and sound are a crucial element of all saasfee* installations.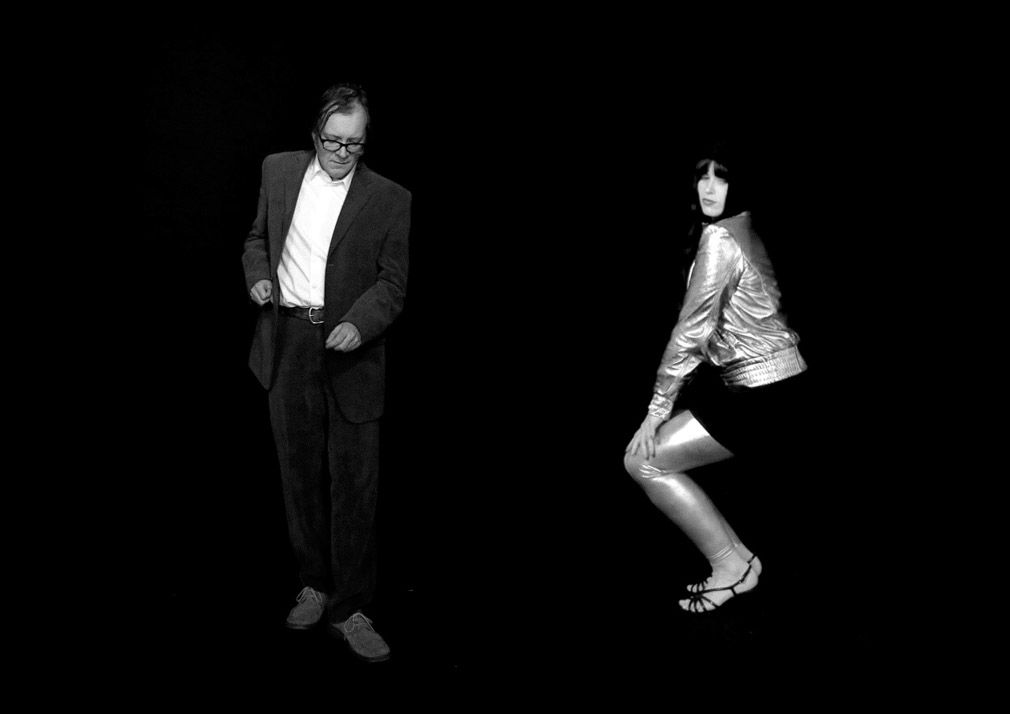 Tou­rist*
Interactive audio-visual art project, Art Frankfurt, 2001
operating instructions: please take a seat at this soft green electronic island. put on the videoglasses carefully. now find out a comfortable position, sit or lie down. feel free to use the control button. turn left and right and choose out your favourite program. enjoy virtual landscapes, animations and videos.. selected sounds and sweeties for your ears. please handle everything with care. thank you. if you need any information please contact our staff. we hope you enjoy. welcome to saasfee* ..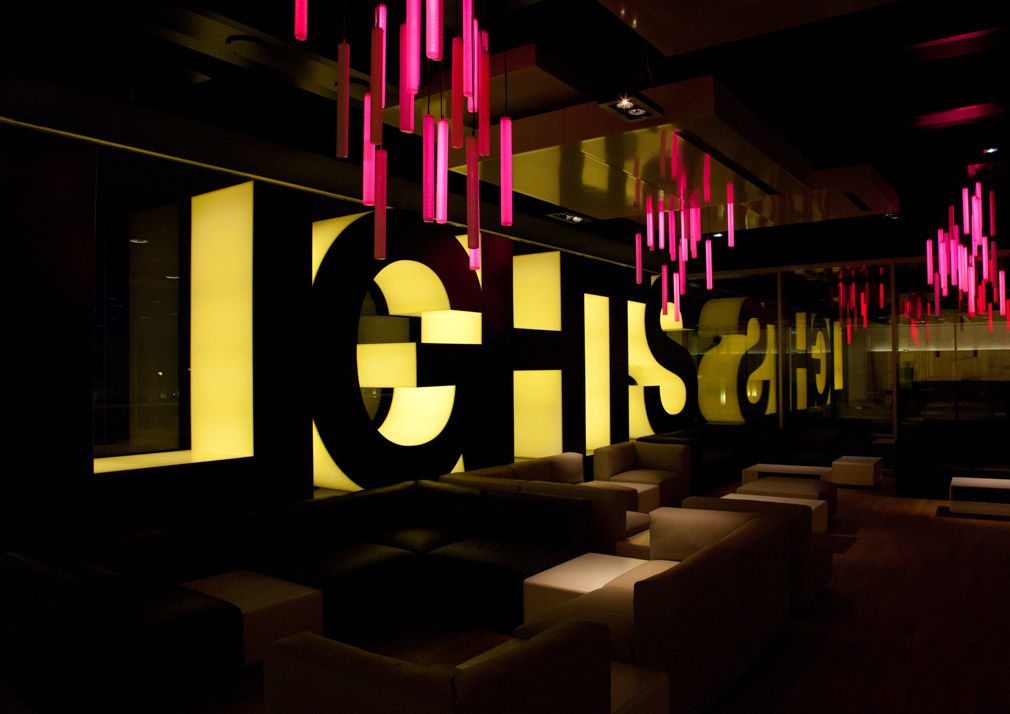 Citylights*
Spatial installation (2010)
Development of the overall concept for the bar area as part of the 200-square-meter Lufthansa Senator Lounge, which opened at Frankfurt airport in 2011. Development and realization of the concept included furniture, special design elements, a bar-top section and a lighting concept based on a city lights theme.
saasfee* handled both the creation of construction plans (taking into account structural requirements) as well as the subsequent realization and production supervision. At the conceptual phase, characteristics such as design, aesthetics, comfort, mass compatibility and functionality were all taken into account. Recognition of the brand values and attention to Deutsche Lufthansa's colors and CI were accorded the highest importance.
The focus was on the development of a media light installation as well as its incorporation in the lighting concept.
saasfee* for Lufthansa, FrankfurtAirport