5 November bis 6. November 2016
Institut für Klangforschung: Modularsystem-Workshop mit Befaco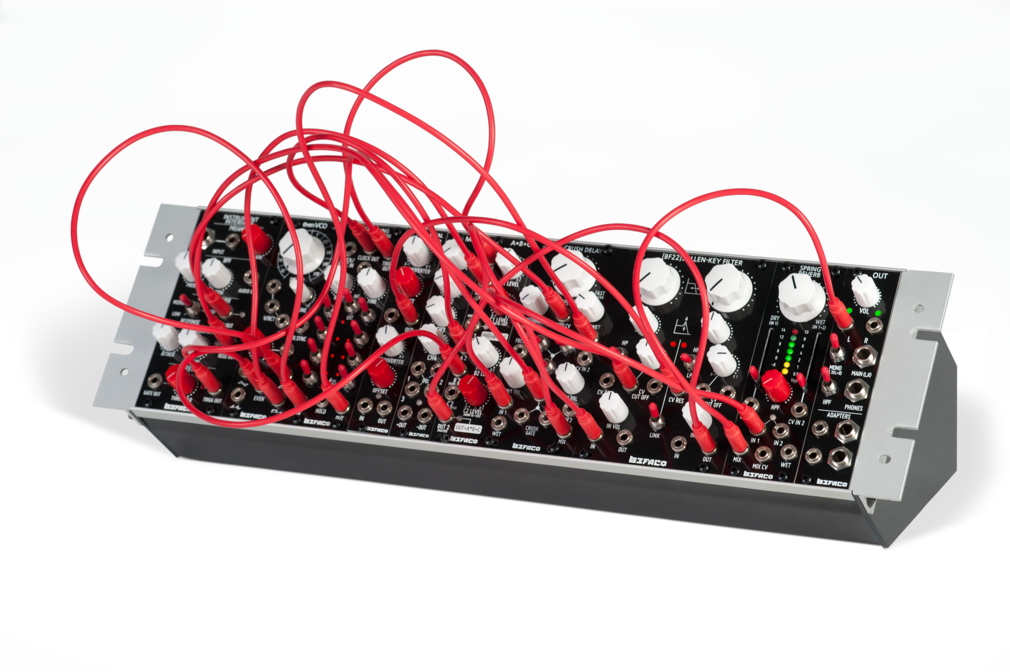 HOW TO REGISTER:
Please register until Wednesday 02. November 2016 via mail at
raddatz@institutfuerklangforschung.de
and indicate which modules you intend to build.
Please note: The kits will be brought over from Spain. We are unable to accept changes after the registration deadline – choose your modules accordingly! The kits have to be paid for in full when attending the workshop – absolutely no excuses accepted.
Befaco is a Synth DIY/open hardware platform focused on designing modules and organizing modular synth workshops regularly in Madrid, Barcelona, Berlin and London.
05. and Sunday 06. November 2016, bang on time from 11–19 Uhr
​
Zollamt Studios
Zollamt Galerie (EG)
Frankfurter Straße 91
OF-Stadtmitte
Institut für Klangforschung Audio-Workshop Wintersemester 2016/17
Join us for a weekend of SDIY modular synth making on 5th and 6th November 2016
Modular SDIY – Modular Synthesizer Do It Yourself
Befaco (ES), represented by Manuel Retamero Merino and Diego Rodriguez Gomez
HANDS ON WORKSHOP: Build your own inexpensive synth modules on eurorack format. We provide all the necessary components (in kit format) to build your device from scratch. Each participant builds her/his own module(s) during the workshop. The workshop is free of charge, you only need to pay for the module kits you have chosen in your registration email.
This is a rare chance, admission is very limited, make sure you don't miss this one!
The workshop is meant rather as two working sessions rather than a fixed structured lecture. Participants can choose to come only for an afternoon and build a simple module, or a whole day to build a complex module or even come both days full on and build two or three modules! This workshop fits the needs of all kinds of users, from beginners who want to learn to solder and get into SDIY, to experienced users that want to take the maximum of the weekend and build as much as possible!
HOW TO CHOOSE YOUR MODULES: This depends on your needs or your already existing system! Experienced eurorack users can pass by Befaco's site and browse available modules for details. If this is your fist time, you might consider building your own case. Then we suggest to start with power bus and power supply. If you prefer to get a pre-built case, you can go for a starter synth voice: VCO + BF + 22 + A*B+C + Rampage.
Got questions? Have a look at Befaco's site and the Befaco Workshop FAQ or contact us right away: raddatz@institutfuerklangforschung (general DIY and workshop questions) or manu@befaco.org (modules, electronic specs).
TIME FOR EACH BUILD: This will depend on each person. All our builds can be finished in one working day. From the simplest modules which need only a couple of hours, to the most complex ones which need up to 8 hours. Experienced users might need between one and 5 hours for any build. You may build as many modules as you like, and keep some more kits to finish building at any given time.
REQUIRED SKILLS: Interest and patience. No previous experience in electronics is necessary. We are here to help and assist you throughout the workshop for a successful build.
REQUIRED MATERIALS: We provide some soldering irons and hand tools for participants who don't have their own. If possible, bring your own tools: Fine tip soldering iron less than 25w is recommended as well as cutting pliers and a multimeter.
AVAILABLE MODULES AND PRICES:
All modules have the same complexity. The difference will be the time it will take to finish the build. Kits have all necessary components for the build and we will help debugging and troubleshooting to make sure they all work perfectly.
Spring reverb: 150 €
Even VCO: 130 €
BF22 VCF: 140 €
Rampage: 170 €
Instrument Interface: 125 €
Output module: 80 €
Mixer: 55 €
Crush Delay: 135 €​
Power Bus: 60 €
Dual Attenuverter: 65 €
Joysitck controller: 100 €
Slew Limiter: 70 €
Sampling Mode: 125 €
Midi thing: 125 €
A*B+C: 95 €