20 Juni bis 23. Juni 2019
Off Borders 2019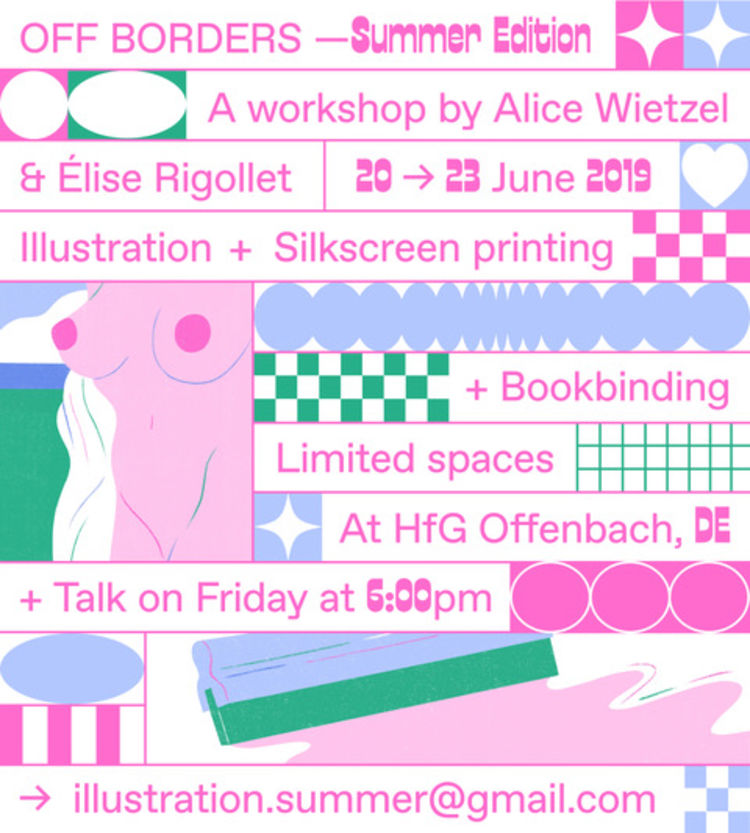 Alice Wietzel is an illustrator from Paris. Élise Rigollet is a graphic designer currently based in Glasgow. Together they team up to bring you a summer workshop!
During 4 days, you'll have the opportunity to draw, silkscreen print, and bind a collective edition. You're invited to create between 2 and 4 pages of your own interpretation of the theme »Summer« which will dialogue with a geometrical stencil library and the creations of your mates. The result of this workshop will be a flamboyant book, merging all the universes of the students.
Each participant gets a copy of the book. Don't forget to sign up for the workshop as the number of students is limited to 12! Register here: illustration.summer@gmail.com
​
Organized by Anna Richter
Day 1 / Thursday
14–18 Briefing and introduction to silkscreen printing
Day 2 / Friday
9–12 Illustration and printing
13–17 Printing
18 Talk & presentation of Elise and Alice's work at HfG Kapelle
Day 3 / Saturday
9–12 Printing
13–17 Printing
Day 4 / Sunday
10–12 Cutting and collating
12–16 Binding
Afterwards: Drinks and debriefing
​
The Friday talk is open to all students, and will take place in the student cafe.