5 September until 8 September 2019
Incoming | Outgoing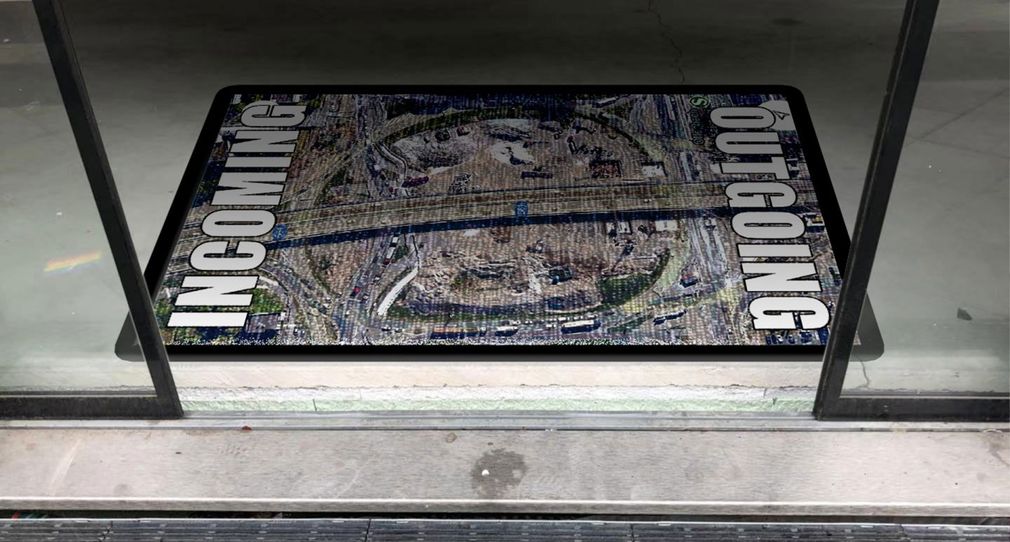 Incoming | Outgoing
Exhibition as part of »The Frankfurt Art Experience«
Incoming | Outgoing deals with the exchange of young artists with material properties and with places - with artistic works as semi-permeable membranes on which perceptions of the inner and outer world touch each other.
Manuel Tayarani's half abstract, half figurative compositions transfer simple motifs from the world of advertising into the hobby technique of window colour and at the same time enhance them into quasi-allegorical scenes in lead window optics. These oscillate between references to user interfaces and mysterious packaging design. Dominik Gohla's photo series focuses on the feel of shiny aubergines. The polished fruits stand together in a provocatively cut format and seem almost like people lurking on us. Under the tense surface, which becomes more attractive with every pore and scar, you can sense spongy but firm flesh. HfG student Wagehe Raufi works with assemblages of organisms and things that interact with media-influenced environments. What do bodies and the images we have of them produce - and how are they produced themselves? The objects function as dazzling petri dishes, on the basis of which something constantly seems to decompose and brew together.
Incoming | Outgoing is full of permeable surfaces that shimmer alive yet seem artificial. Reduced forms develop into associative landscapes that tell of points of contact between inside and outside in a constant intermingling.
​
​The exhibition is presented by mañana Bold e.V., the Offenbach Art Association, which was co-founded by HfG members and alumni.
Opening
5 September 2019, 9 pm
Opening hours
Fri–Sun, 11am–6pm
​
Große Eschenheimer Straße 18
60313 Frankfurt a. M.
(Flare of Frankfurt)