28 June 2019
The Triangle: Conversations about Art and Politics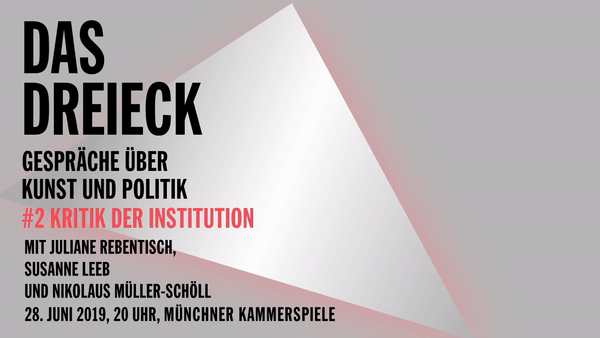 #2: Critique of the institution
In a triangle with two further guests each, the philosopher Juliane Rebentisch, Professor of Philosophy and Aesthetics at the HfG Offenbach, discusses topics in the field of tension between art and politics.
The second episode is dedicated to the critique of the institutions of visual art and theatre. The focus is on approaches that address these institutions, their social conditions and their ideological function in the respective artistic medium itself. Both the visual arts and theatre can already look back on a small history of such artistic confrontations. But how does this critique articulate itself in the present? What is the underlying understanding of the institution? What conditions does it meet? And how is it received by the institutions? Is criticism defused by the institutions, or is it the cause of a self-critical transformation of the institutions, which consequently also have to be rethought? What would a critical institution be?
The art historian Susanne Leeb (Leuphana University, Lüneburg) and the theatre scholar Nikolaus Müller-Schöll (Goethe University, Frankfurt a. M.) will be discussing with Juliane Rebentisch the following topics.
28 June 2019, 8 pm​
​
Münchner Kammerspiele
Kammer 3
Maximilianstraße 26
80539 München​
Tickets
9 Euro / reduced 5 Euro
Vortragsreihe
6 May 2019 until 16 January 2020