16 January 2020
The Triangle: Conversations about Art and Politics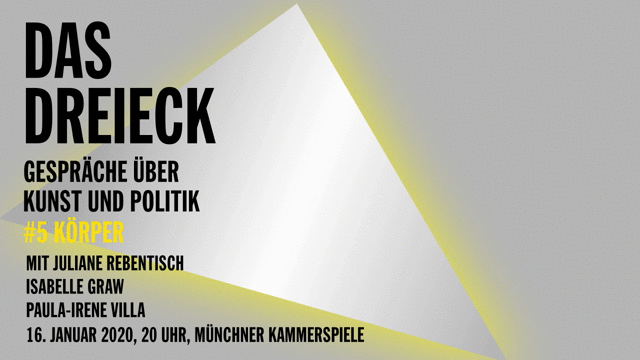 #5 Body
In a triangle with two further guests each, philosopher Juliane Rebentisch, Professor of Philosophy and Aesthetics at the HfG Offenbach, discusses topics in the field of tension between art and politics.
The fifth episode is devoted to the body as a scene of the dispute over social norms. The current boom in performance formats in the visual arts and theatre represents a critical negotiation of the conditions under which bodies can generally claim public visibility. In doing so, art takes sides with that which does not conform to the norm. Precisely because of this, however, the art of performance also corresponds to a social formation in which the performance of uniqueness itself has become the norm and generates value.
Together with Juliane Rebentisch, the art historian Isabelle Graw (Städelschule Frankfurt) and the sociologist Paula-Irene Villa Braslavsky (LMU Munich) discuss the potentials and problems of the emerging body today.
16 January 2020, 8 pm
​
​​Münchner Kammerspiele
Maximilianstraße 26
80539 München​​
Vortragsreihe
6 May until 20 December 2019