13 April 2019
Robert Johnson Theorie 66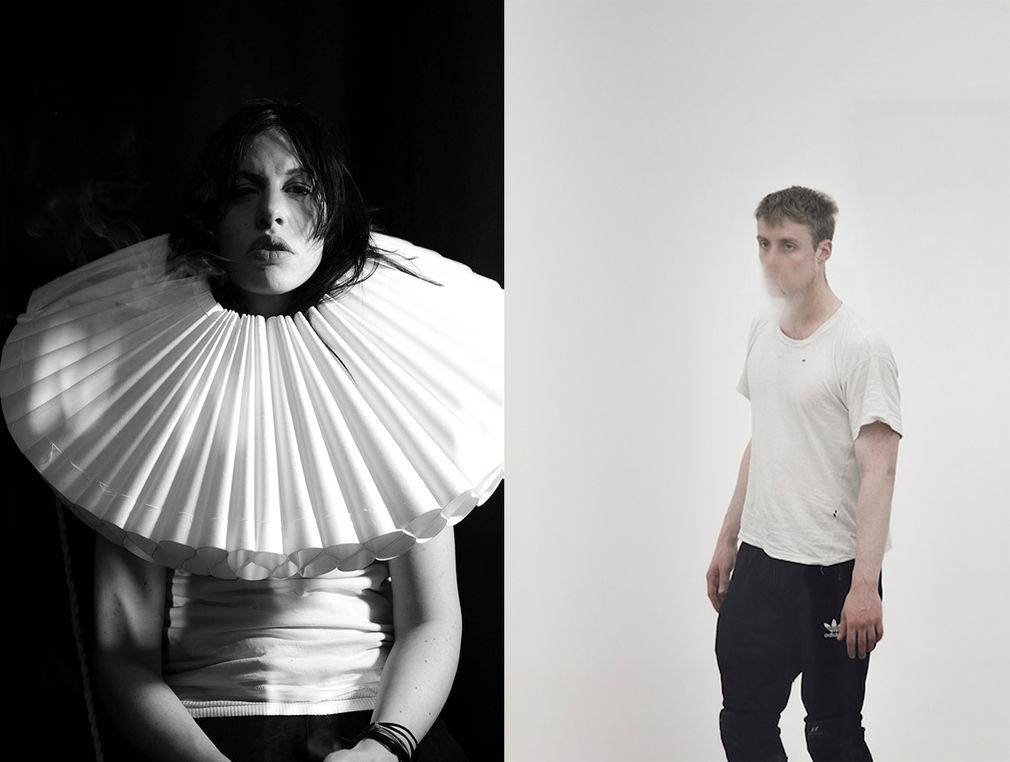 Anne Imhof with Billy Bultheel / Musik
Music plays a central role in the work of the artist Anne Imhof. Long before her performative works, which are known today, she produced intensive tracks from electronic, recorded and spoken elements. She was co-founder of the bands Die Töchter aus guten Hause and Beautiful Balance as well as bouncer of Robert Johnson.
Since 2013 she has worked closely with the composer Billy Bultheel in the context of her performances, who has collaborated on many of her pieces in recent years. The joint lecture focuses on the collaborative musical work for Imhof's Performances Sex (2019) - together with Eliza Douglas and Ville Haimala - as well as Faust (2017) and Angst (2016) - both together with Eliza Douglas and Franziska Aigner. The music for Faust will soon be released as a double LP on the PAN label.
Anne Imhof (b. 1978) lives and works in Berlin and Frankfurt am Main, Germany. She represented Germany at the 57th International Art Exhibition—La Biennale di Venezia (2017), where she was awarded the Golden Lion for best national participation, and has won the Absolut Art Award (2017) and the Preis der Nationalgalerie (2015). Imhof's performances have been staged in solo exhibitions at major international venues including the Hamburger Banhof, Berlin, La Biennale de Montréal, Kunsthalle Basel (all 2016), MoMA PS1, New York (2015), the Carré d'Art - musée d'art contemporain de Nîmes (2014) and Portikus, Frankfurt am Main (2013). Her work has also been featured in numerous group exhibitions, including at the Palais de Tokyo, Paris (2015), the Centre Pompidou, Paris (2015) and the Museum für Moderne Kunst, Frankfurt am Main (2014).
Billy Bultheel (b. 1987) lives and works in Berlin, Germany. He studied choreography and performance at the Justus-Liebig-Universität Gießen and electronic music composition at the institute of Sonology, The Hague. His work focusses on site-specific sound installations and extended notions of polyphony and space. Working with both live musicians and electronic music, he approaches music through choreographic practices. Billy has collaborated with Anne Imhof for seven years as a composer and performer. He composed music for her works Sex (2019), Faust (2017), and Angst (2016). Furthermore, he has worked with The Forsythe Company and the performance ensemble New Forms of Life.
In cooperation with Heiner Blum and Patrick Raddatz from the Hochschule für Gestaltung Offenbach, Robert Johnson presents theory in a casual sequence to prominent, expert guests - sound specialists, musicians, authors, DJs - with lectures on club culture, production and reception of electronic music.
​
13 April 2019, 10 pm (punctual)
Doors: 9:45 pm
​
Robert Johnson Offenbach
Nordring 131, Offenbach
​
Vortragsreihe
1 November 2014 until 28 February 2020