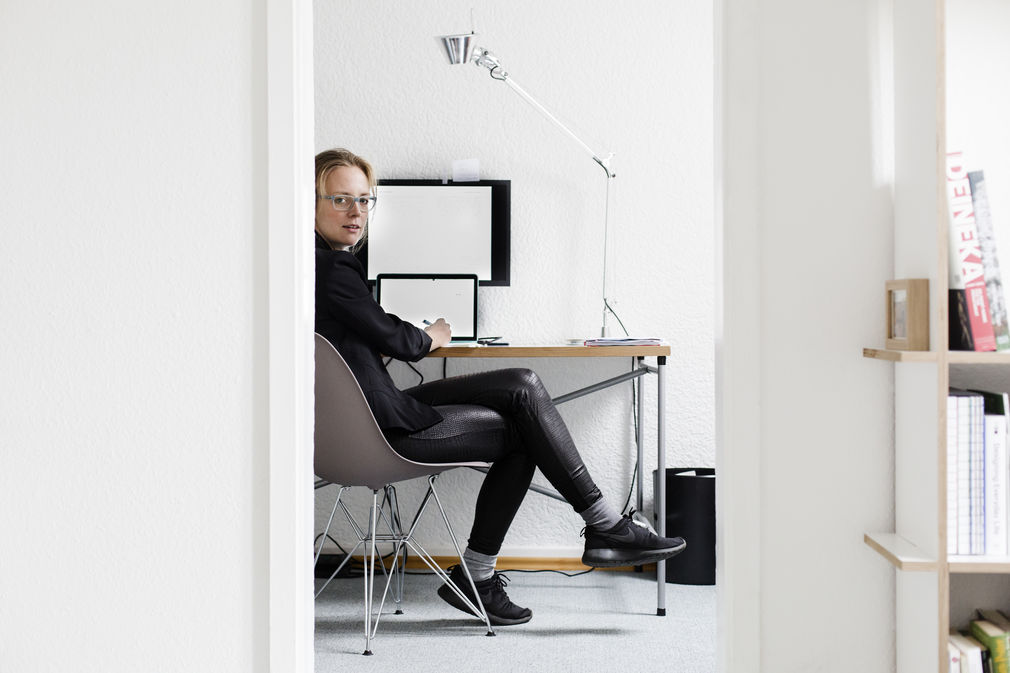 »If I did not follow a practice, then my design research would not function any more,« says Annika Frye. »Conversely, design does not work without conceptual thinking,« she adds. The Offenbach model, the interweaving of theory and design practice, was an approach Frye could relate to. As a graduate of the Kunsthochschule Kassel, she started her doctorate at the faculty of Design (formerly Product Design), of the HfG Offenbach in the spring of 2011. Frye, the first to participate in the Offenbach PhD programme, defended her thesis in August 2015.
»Improvisation in Design Processes« was Annika Frye's doctoral thesis, and she wrote a comprehensive cultural studies work for that. It shows how a design concept for the work of a product designer can be based on the process and its improvisations. Appearing in March 2017 is a revised version. Frye also developed some design projects, such as the »improvisational machine,« an apparatus that can produce individual pieces, which are now in the collection of the MAK Vienna.
In her Offenbach workshop, Frye works on design projects and workshop concepts. An example of this is a project for the 25th Design Biennale in Ljubljana, which deals with the connection between digital technology and the crafts. The digitisation of design and the connection between digitalism and materiality in product design are topics that Frye has pursued since the completion of her dissertation. After a time working as a designer at a 3D printer manufacturer, she was a fellow at the Institute for Interdisciplinary Design and Media Cultures (IXDM) in Basel in 2016, headed by Claudia Mareis. As a lecturer at the University of the Arts Bremen, Frye focused on the historical, aesthetic and cultural implications of 3D printing techniques over the summer semester of 2016. The Kunsthochschule Kassel also invited her for a five-day workshop, where improvisational methods were combined with digital production processes.
Annika Frye has worked as an academic staff member at TH Aalen, since the winter semester of 2016/17. There she is building the new bachelor degree course Mechanical Engineering / Product Development and Simulation: Technical Design, which contains a particular combination of design and technology. During the semester, Annika Frye spends four days a week in the Swabian Ostalb region. »It's very nice there,« says Frye.