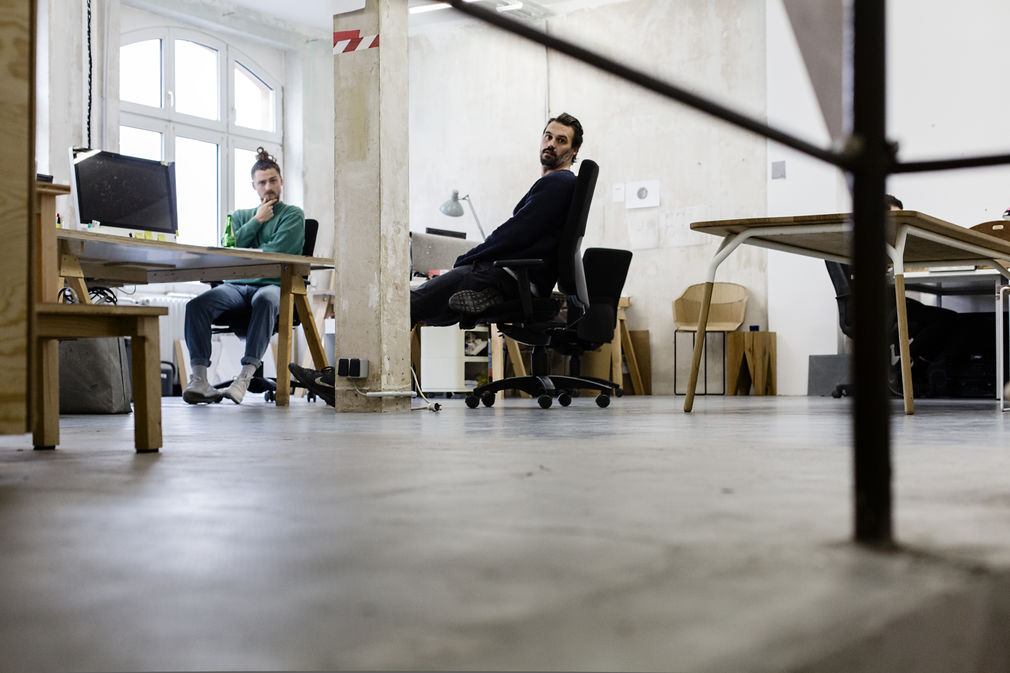 »For our first contact with customers, we cook and eat together,« says Marc Ulm, founder of buero.us. Also at our meeting, a meal with the team is of central importance. The mood in the workshop and office space in the Frankfurt district of Gutleut is relaxed. Ulm's design office focuses on exhibition design and architecture, room installation and object design. Its clients include the Gutenberg Museum Mainz, the Club Michel in the Bahnhofsviertel (train station district), the GOSU record store and the Offenbach club Robert Johnson.
For the show JOAN MIRÓ. PAINTING WALLS. PAINTING WORLDS, which was shown at the Schirn Kunsthalle Frankfurt in 2016, buero.us designed the exhibition architecture. Marc Ulm and his co-workers see the realisation of the designs through, from start to finish. »So that everything will be just as we imagine it,« explains Ulm. The carpenter Lewin Fischer and the HfG student Karl Becker belong to the team of buero.us as well as other colleagues. Ulm has been using the rooms in the Gutleut district for about seven years.
Buero.us often works in an interdisciplinary manner, cooperating, for example, with graphic designers. Working with many people on a project is the affirmed goal. Our products should not be cuddly or smooth. »We are instead edgy.« Ulm learnt to use materials differently than originally intended, through his work with the Frankfurt artist Tobias Rehberger, whose sculptures oscillate between art and design.
Marc Ulm got vital inspiration while attending the HfG Offenbach, where he was a student at the Design department (formerly Product Design) from 2007 to 2015. The Professor for Integrative Design and Product Language »was very important to me,« says Ulm. Through him he learnt to question things and to adopt this attitude for his own work. Ulm and Eckart had already cooperated in the study period. Together with other students, they realised the exhibition architecture for the traveling exhibition 100 beste Plakate (2010), a trade fair stand for Traces (2010) and the exhibition architecture for the German Design Award Communication Design (2011).
Asked about ambitions for the future, Ulm says: »Always overcome new boundaries.« It is important not to remain in the comfort zone of one's work. But something else is also important for daily work, he adds: »Main thing, we have fun.«