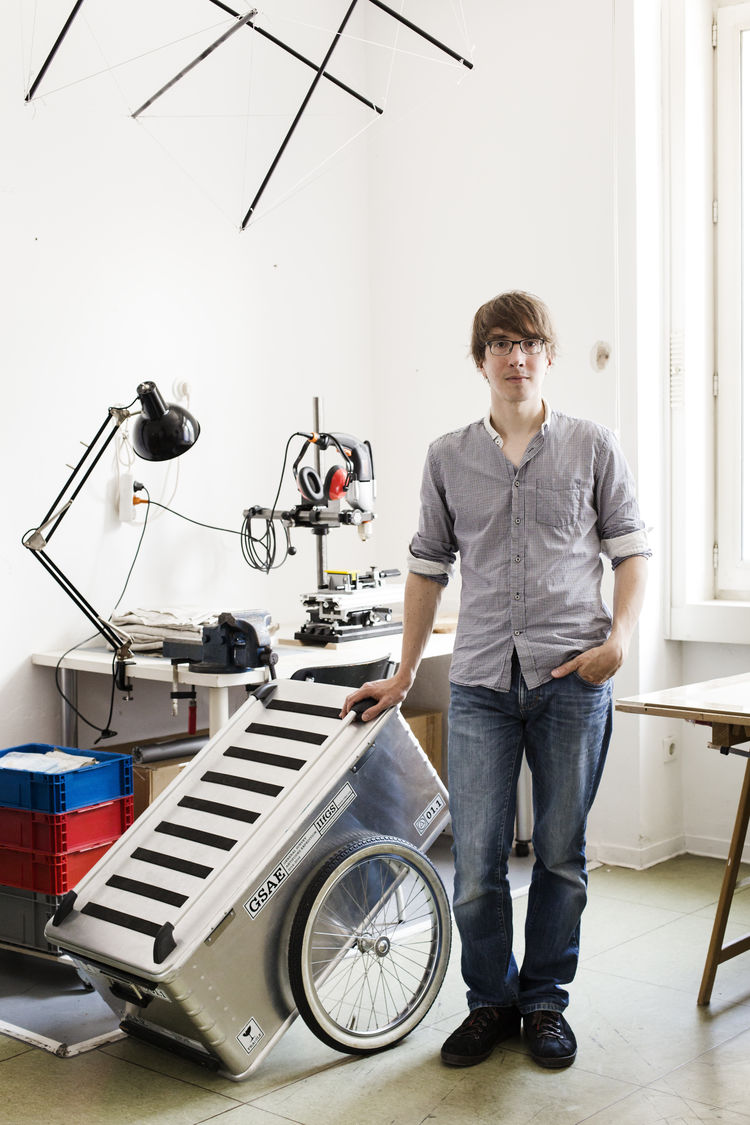 Neat and tidy is how the artist Valentin Beinroth's studio looks, in the Frankfurt Bahnhofsviertel (central train station district). An elaborate drill and a jigsaw give the impression of a workshop atmosphere. Since his solo exhibition at the Nassau Kunstverein Wiesbaden, Beinroth has been working on a new website and an artist's book documenting his New Zealand project. In 2014, he travelled there for three months on the two main islands, financially supported with a scholarship from the Hessian Cultural Foundation. For this project he developed measuring instruments, which are part artistic, part scientific in nature.
One could follow Beinroth's New Zealand expedition in the Wiesbaden exhibition by means of photo panels that show his surveying process and which also document other technical procedures. The measuring instruments used by Beinroth were also presented in the exhibition. In addition, the artist's everyday travel tools were staged, museum-like, in showcases. A map of New Zealand demonstrated the outcome of the expedition: a territory covered by measuring points and red connecting lines.
This is not the first time that Valentin Beinroth's affinity for geometry was on view. The interplay between natural scientific precision and artistic imagination characterises his work. What is new for the New Zealand project is the narrative component. The activities of a researcher are conveyed in various media. The boundary between documentation and invention is blurred.
The Stuttgart-based Valentin Beinroth became aware of the HfG Offenbach at the end of the 1990s through acquaintances and he then made the decision to study there. For Beinroth, the HfG offered him the opportunity to work on applied design and free artistic projects, side by side, without having to settle immediately for one. In 2008, Beinroth completed his Diplom in the subject area Experimental Spatial Concepts.
He liked the atmosphere at the HfG: »Because I met people there who thought just the same as me.« The opportunity to be able to use workshops in the design department helped Beinroth to implement his ambitious projects. He also enjoyed the extensive theory courses on offer. It was already during his studies at the HfG that he earned his living with graphic design. He still works today for some clients from that time. He has recommended the HfG to friends too.