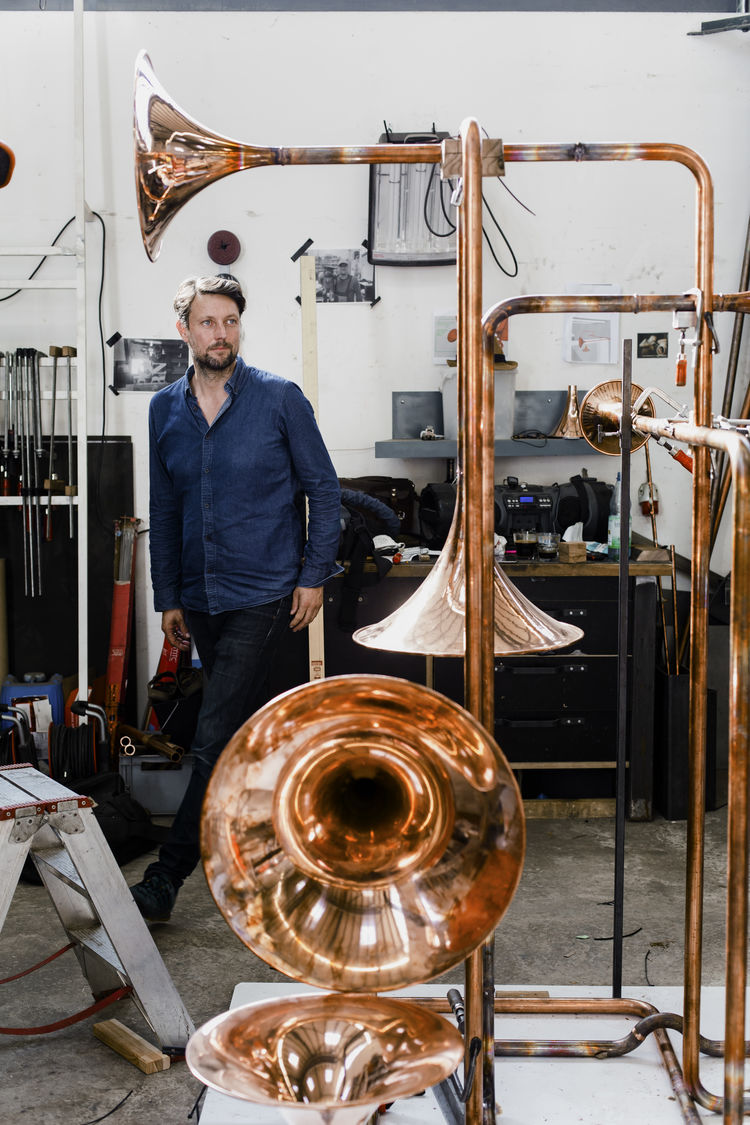 Master metalworker and HfG graduate, Bernd Euler, produces works by contemporary artists - and his artists had many exhibitions in 2016. A relaxed atmosphere prevails in Euler's workshop in Berlin-Weißensee. Music can be heard through the light-filled hall, which was a DEFA film studio in former times. Euler's co-workers work on metal sculptures by Alicja Kwade, whose studio is only a few feet away. An outdoor sculpture by Michael Sailstorfer was just at the painters, says Euler. Artists such as Ayşe Erkmen, Olaf Nicolai and Roman Signer as well as architects are among his customers. It all began with Sailstorfer, who was Euler's first client.
Bernd Euler has lived and worked in Berlin since 2004. He started his own workshop in 2006 and moved to the current location in Weißensee in 2011. Previously he studied at the HfG Offenbach, mainly in the area of Experimental Spatial Concepts. He comes from a family of metalworkers and locksmiths in Frankfurt. His studies at the HfG were preceded by an apprenticeship at his grandfather's business, which Euler finished with the Meister qualification. He sees his craft background as a »good foundation.«
For Euler, the direction to take after his studies was clear: »I knew I didn't want to do any crafts anymore, I wanted to work freely.« But the loneliness of the studio was not for him: »I'd rather work in groups.« At the HfG, Bernd Euler belonged to the founding group of the experimental club concept Schmalclub and was its technical manager. He also curated one Schmalclub event as his Diplom project in 2003. Together with Patrick Koch he founded Szpilman, a platform for ephemeral art.
In the meantime, Bernd Euler coordinates the workflows in his workshop, without, as was the case in the beginning, doing the actual work himself. He says that it is great to be able to »make things possible«, together with the artists. There are many decisions to be made for each project. Euler advises the artists and tries to adapt to their particular approach. He therefore considers having an »understanding for artists« important for his work. This was a sensitivity he brought with from the HfG. »I would not have had this approach had I not studied at the HfG,« he says. When asked about his own projects, he emphasised: »The workshop is my thing.«