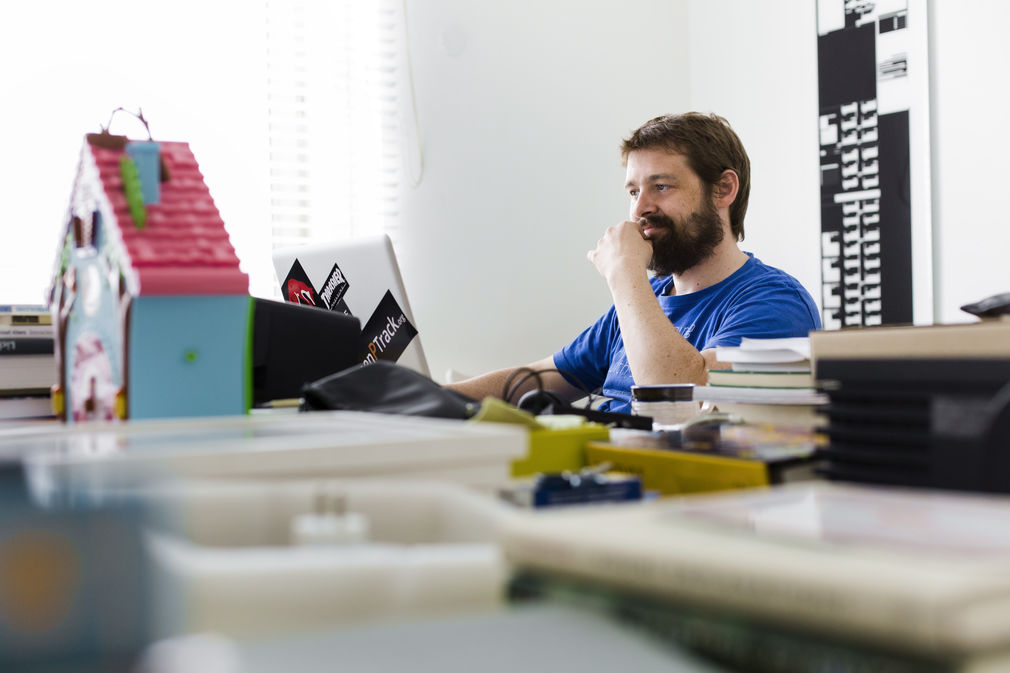 The first impression one has is of the many book stacks visible. Florian Jenett has been a professor at Mainz University since February 2016. His workspace in the artist studio building, basis, in Frankfurt Bahnhofsviertel (train station district) is not without such hints. In Mainz, Jenett teaches code-based design methods and techniques. Jenett uses the semester breaks, among other times, to write new funding applications for the Motion Bank project, of which he is co-director. The project, begun in 2010 in collaboration with the choreographer William Forsythe, is devoted to the digitalisation of contemporary dance. It is about transforming dance into data, which could be made accessible to mathematicians, for example.
Florian Jenett's artistic work is also digitally grounded. Jenett investigated the construction of news web portals for his monochrome work Architectures of True and False. The result suggests high-rise buildings from the 1970s. In August 2016, Jenett was part of the group exhibition bits 'n' bytes at the Galerie Martina Detterer in Frankfurt.
Jenett began his artistic experiments at the HfG Offenbach with digital drawings. He used the then still brand new Google image search function as a tool and inspiration. »I accidentally landed up in art,« he says. He has always done a lot of programming and actually wanted to study graphic design, but »got caught up« in the projects of the Professor of Experimental Spatial Concepts at the university.
He strongly supported his development, says Jenett. For several years he was also an assistant in his studio: »Seeing how a contemporary artist works was an eye-opener for me.« Jenett had already worked on paid web projects during his studies. This facilitated his transitional phase after his Diplom in 2007. The assignments encouraged him to take advantage of the artistic freedom at the HfG. He particularly appreciated the opportunity to combine courses from different disciplines. His main focus was on the subject areas of Experimental Spatial Concepts, Electronic Media and Digital Design.