Head
Function

Teacher for Special Tasks

T +49 (0)69.800 59-234

Main building, room 116/116a
Research Assistant
Pei-Chin Lee
In the VideoLab, all bachelor's and master's students from the departments of art and design who want to work with film and video are supervised.
Successive practical courses introduce students to the practical and theoretical basics of film design: from digital image and sound recording and lighting design to editing and video post-production.
The Video I practical course is designed for students entering the Bachelor's program, in which all the basics of film production are worked out in a team. The advanced video courses Video II and Video III deepen the skills learned in the bachelor's and master's program with the goal of being able to professionally perform all steps of digital film production. This practice-oriented knowledge and artistic skills lead to the realization of independent film projects or joint collaborative works in the areas of documentary film, reportage, image film, live mix or also in the implementation of a scenic film work, an experimental film, music videos or a video installation.
The VideoLab in the Department of Art is headed by Dipl.-Des. Claus Withopf, LfbA (Teacher for Special Tasks) Film/Video.
Lending
VideoLab equipment rental is available after completing the introductory course. Request via withopf@hfg-offenbach.de.
Ambassador videos for the campaign »Hessen creates knowledge«
tudents created 38 videos for the communication initiative »Hessen creates knowledge« of the Hessen State Ministry of Science, Research and the Arts (HMWK).
This VideoLab project was realized with a large film team over two semesters. It involved interviewing academics at twelve universities in Hessen and representatives of renowned research institutes who work as ambassadors for the »Hessen creates knowledge« initiative.
The knowledge ambassadors are presented in one-minute clips in which they talk about their current research and teaching, touching on their individual topics and specialist areas. In addition, the videos provide a brief insight into a wide range of research institutions, laboratories and university teaching areas.
All the videos can also be viewed here.
Film team
Doreen Keck, Anna Pietocha, Aleksandar Radan, Thomas Kneffel, Stephanie Kayß, Marco Russo, Maximilian Reimann, Jonatan Schwenk, Denis Carbone, Matthias Lawetzky, Merlin Flügel, Brix Koethe, Oliver Rossol, Thomas Bannier, Ferdinand Paul, Veruschka Bohn, Luana Carina Knipfer, Boris Dörning
On behalf of
Hessen State Ministry of Science, Research and the Arts (HMWK)
In collaboration
with Hessen Agentur, Oliver Zarski
Relaese of the DVD series Video.Talks
The DVD series Video.Talks with selected and recorded lectures at the HfG Offenbach is available for loan in the library/media center of the HfG. The series includes more than 100 titles: lectures and events from 2003 to the present. In addition, some of these lectures are available on iTunes. The DVD series is realized under the direction of Claus Withopf in the VideoLab.
Lectures by
Kurt Weidemann, Barbara Bierach, Stefan Nowak , Cyan, Jan Weiler, Mike Hentz, Lothar Spree, Lou Yongqi, Liu Yang, Lü Jingren, Sascha Lobe, Chen Zhengda, Bi Xuefeng, Chen Shaohua, Wang Min, Zhang Suojia, Song Xiewei, Eike König, Wolfgang Ullrich, Burghart Schmidt, Lambert Wiesing, Hans Ulrich Reck, Kai Vöckler, Michael Erlhoff, Manfred Faßler, Adam Jankowski, Regine Prange, Marc Ries, Ernst Hubeli, George DuBose , Steven Henry Madoff , Martin Gessmann, Juliane Rebentisch, Siggi Becker, Peter Eckart, Petra Gropp, Sebastian Oschatz, Christoph Schröder, Peter Kemper, Petra Eggers, Peter Bilak, Oded Ezer, Johannes Bergerhausen, eps 51, Na Kim, Shoko Mugikura, Alan Shapiro, Christiane Voss, Simon Rothöhler, and others.
Participating students involved in realization
Johannes Lenzgeiger, Max Brück, Maximilian Reimann, Anne Euler, Jennifer Gelardo, Lea Schneidermann, Yacin Boudalfa, Roman Degreif, Carolin Liebl, Karolina Novoselskaja, Laura Robert, Yves Bierwald, Linnan Zhang, Simon Henrich, Nils Waldmann, Markus Neunobel, Philipp Karau, Shaowei Jia, Jia Kun Wang, Julia Boswank, Liu Yue, Nicolas Gebbe, Xingni Li, Pauline Biller, Ferdinand Paul, Margarethe Kollmer, Thomas Bannier, Deveroe Aurel Langston Reuter, Georgios Koumanidis, David Loimi Brautmann, and others.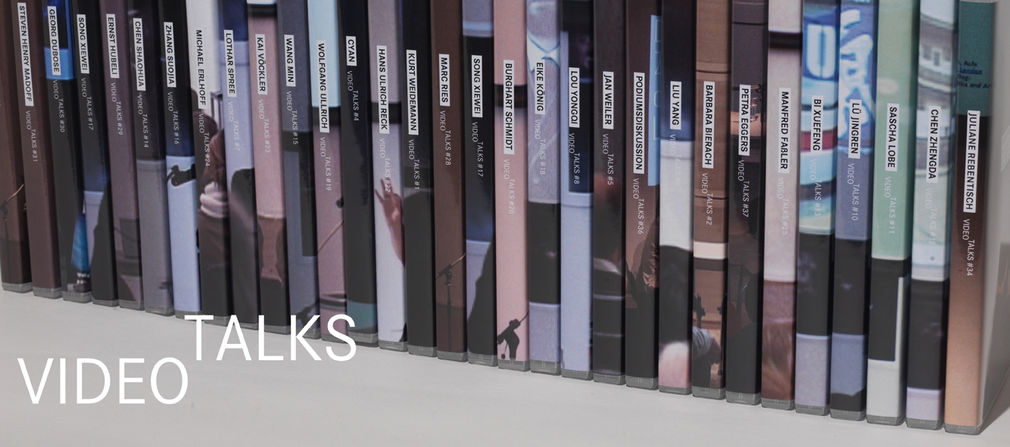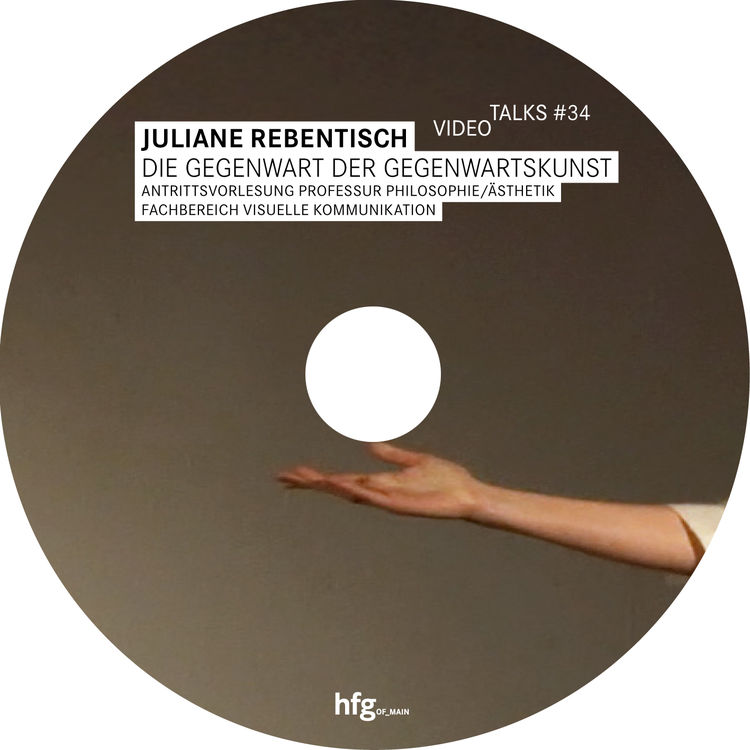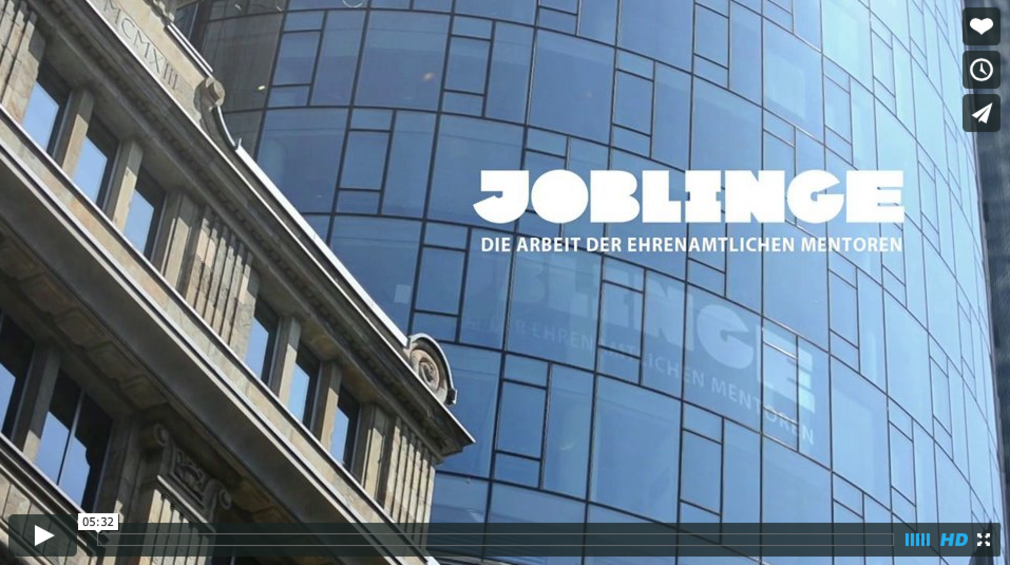 Documentary film »Joblinge«
The Work of Voluntary Mentors
​A cooperation with Helaba, Landesbank Hessen-Thüringen and Joblinge gAG Frankfurt
The non-profit-making initiative Joblinge gAG addresses young unemployed people and young adults who have poor chances on the labor market. In a program lasting around six months, the young people prepare themselves for the challenges of the working world and step by step work towards their job or training placement. Each youngster is assigned their own voluntary mentor for the duration of the program, someone whose own successful career means they can offer ample advice.
The short documentary film presents the various stages of mentoring and accompanies the Joblinge mentor tandems on their joint path to a successful conclusion of the program and the start of the participants' training.
Participating students
Stephanie Kayß, Andrew Meyer, Thomas Kneffel, Robin Keast, Maximilian Reimann, Jonatan Schwenk, Boris Dörning, and others.
In cooperation with
with Helaba, Landesbank Hessen-Thüringen and Joblinge gAG Frankfurt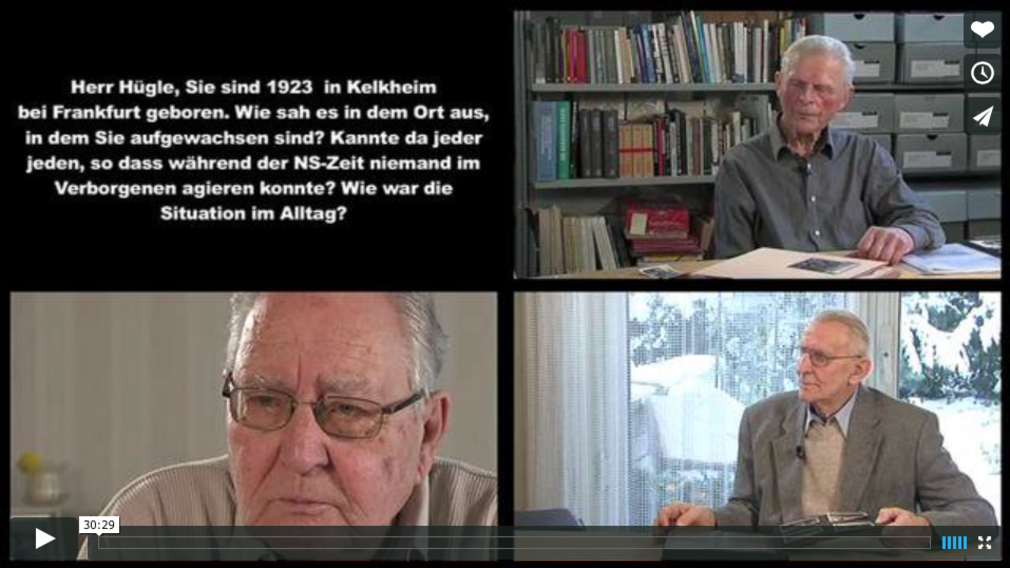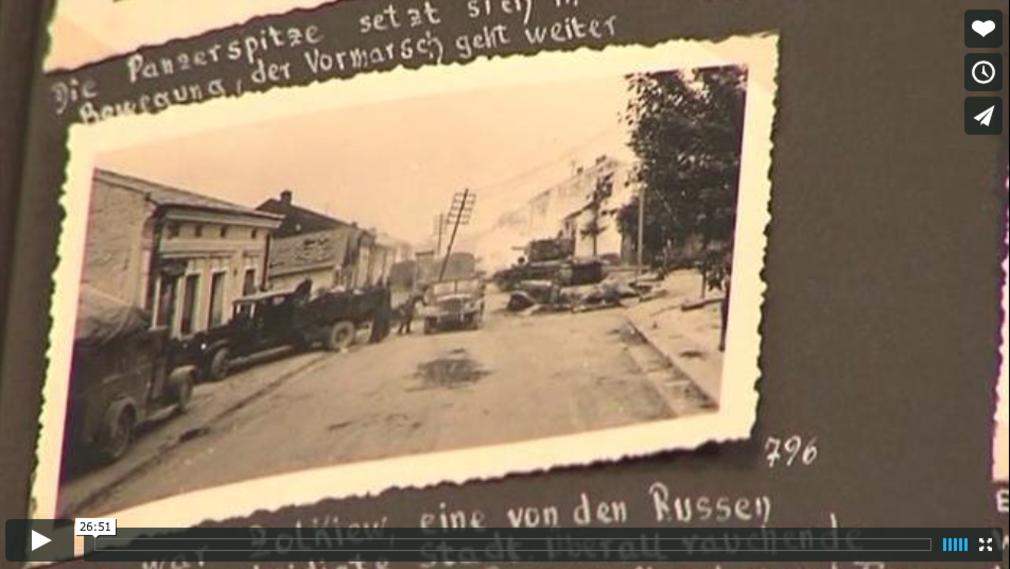 Documentary video practice
Interdisciplinary video practice project in basic and advanced courses in
​As part of the special exhibition »Focus on Strangers. Photo Albums of World War II« at Historical Museum Frankfurt, historians conducted four interviews with contemporary witnesses that were recorded on video by students Valentin Denisowski, Stephanie Kayß, Philipp Karau and Maximilian Reimann so as to preserve their memories for posterity. Topics in the interviews were the individual views of the Wehrmacht soldiers and their recollections. By using them to complement the exhibition, it was possible to demonstrate the discrepancy between what historians know about Nazism and the subjective, often positive recollections of fathers and grandfathers. The unabridged video interviews, lasting several hours, will be made available to researchers and pedagogic instructors at the Fritz Bauer Institute and Historical Museum Frankfurt and kept in the archives. The cooperation between HfG Offenbach and Historical Museum Frankfurt was proposed by Petra Spona, the historian responsible for coordinating the Frankfurt presentation of the traveling exhibition. Petra Spona, Jörg Osterloh and Wolf von Wolzogen conducted the interviews.
From the eleven hours of video material recorded, students Stephanie Kayß and Philipp Karau each compiled a documentary film. Their individual approaches and method of dealing with the topic, selection and use of different cinematic stylistic devices demonstrate the diversity of documentary work even when the same basic material is used as a foundation. Both with regard to their different focus and in the overlapping of material, the two films complement each other and each show new aspects.
Stephanie Kayß »Glück gehabt oder wie man den Krieg überlebt« (Link)
2011, DV, 26 min.
In »Glück gehabt oder wie man den Krieg überlebt« (Lucky, or how to survive the war) four former Wehrmacht soldiers talk about what was arguably the most dramatic part of their lives. Sometimes the tone is impressive and moving, at others laconic. Pride and the playing down of things are just as evident as trauma and repression.
Philipp Karau: »so wie ihr euch erinnert« (Link)
2011, DV, 30 min.
»so wie ihr euch erinnert« (How you remember) is a documentary, fragmentary test arrangement of four former Wehrmacht soldiers, who recall the same time, but independently of one another. With little recourse to fussy anecdotes, the protagonists give an idea of how they felt about their own socialization in a totalitarian state, about the Holocaust, the crimes of the German military. This provides a heterogeneous / multiple / contradictory view of the Nazi regime and its ideology. The film places a particular focus on the questioning of the men and shows this in their non-verbal responses to the questions posed to them: in how they listen, wait, recollect, form their thoughts and struggle for words.
Contemporary witnesses
Harry Hügle, Hans Limbacher, Hans Pleitgen, Günter Sieling
Camera
Valentin Denisowski, Stephanie Kayß, Philipp Karau, Maximilian Reimann
In cooperation with
Historical Museum Frankfurt: Petra Spona, Wolf von Wolzogen and Fritz Bauer Institute: Jörg Osterloh, Gottfried Kößler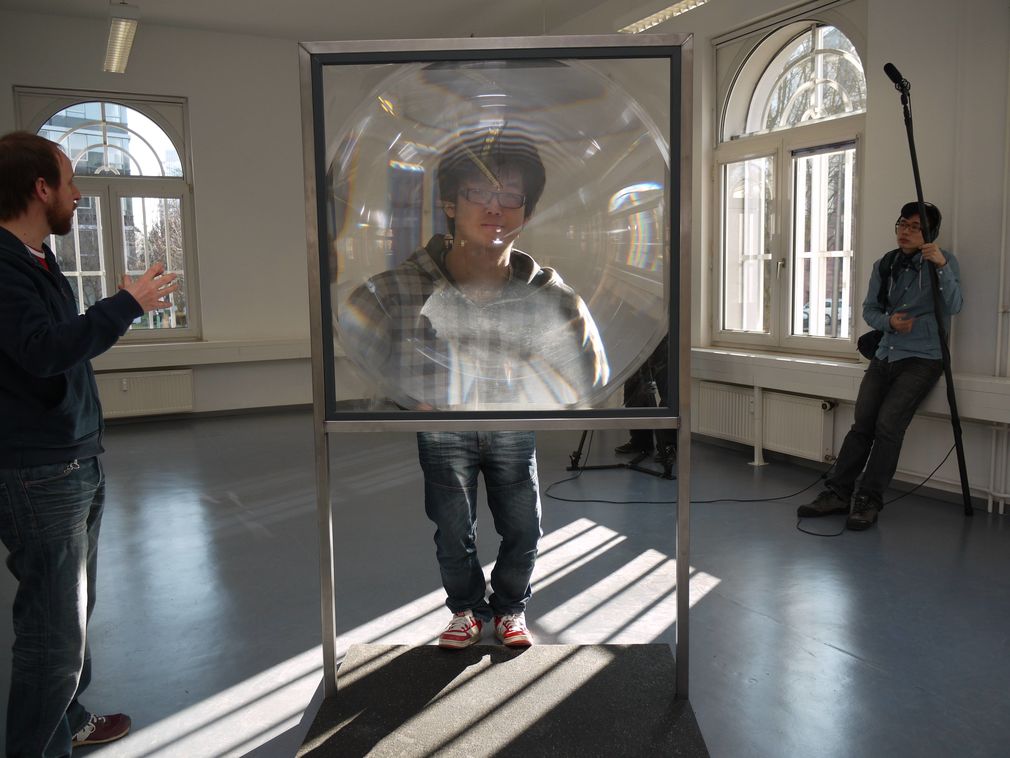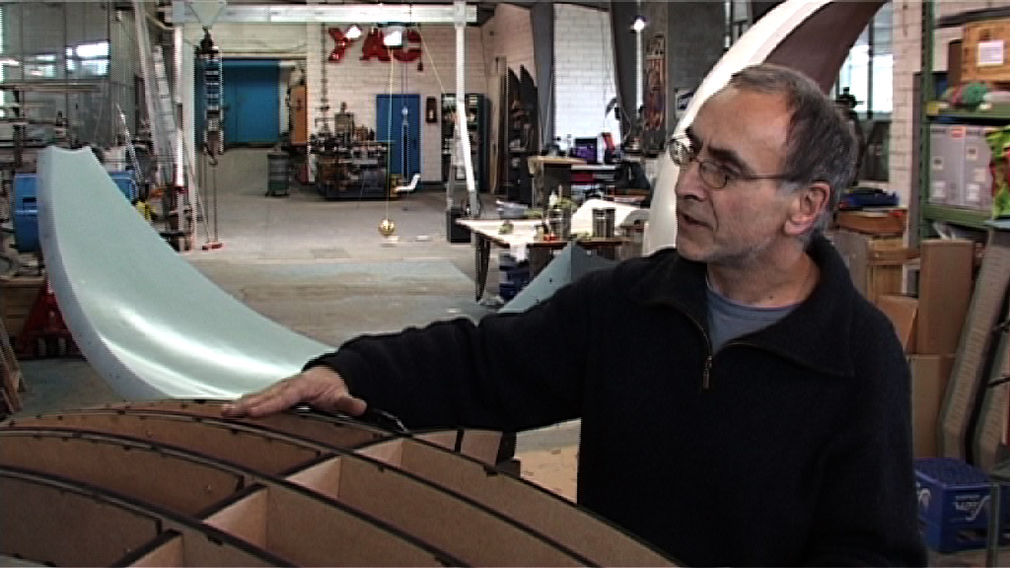 Documentary Experiminta
Video on the creation of the Science Center Experiminta, Frankfurt
On the Video Practice II course students realized a documentary on the creation of the Science Center Experiminta in Frankfurt. The video was first shown on March 1, 2011 during the opening of Experiminta in Frankfurt. In the Science Center around 100 experimenting stations invite visitors to explore scientific phenomena and mathematical relationships.
Experiminta
Documentary / DV / 05:30 min. / 2011
Video Practice II course
Participating students
Julia Boswank, Philipp Karau, Nicolas Gebbe, Shaowei Jia, Jia Kun Wang, Liu Yue
Music: Yaschar Scheyda
World Vision Clip
on the topic »Voluntary work«
Participating students
Philipp Karau, Robert Kulet, Myria Nicolaidou, Maximilian Reimann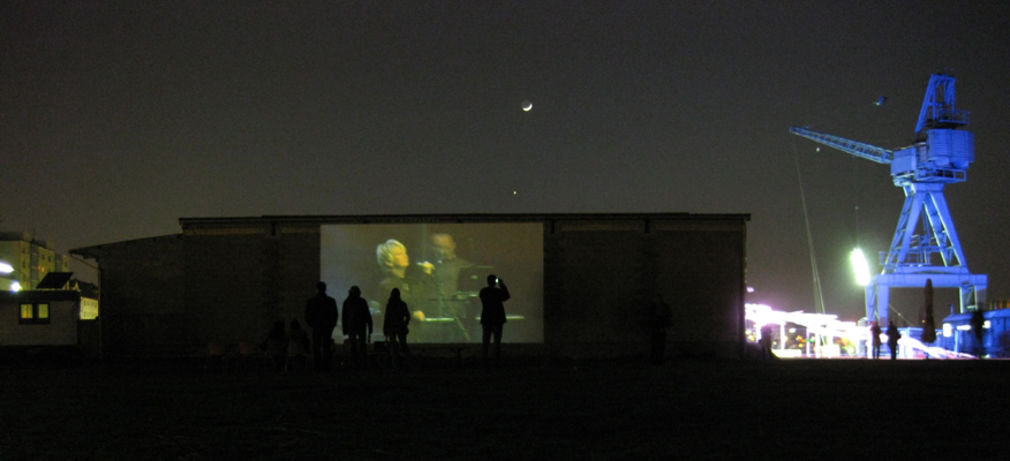 Luminale
Picture for pilots
As part of Luminale 2010 Claus Withopf and his students at HfG Offenbach presented two film programs in cooperation with Hafen 2 in Offenbach. The 54- square-meter projection space on the outer wall of the Ölhalle factory building on the Hafenwiese became an open-air cinematic installation at dusk. On April 11 Claus Withopf showed 16 selected short films. The films were created in seminars with Prof. Heiner Blum, Prof. Mariola Brillowska, Prof. Rotraut Pape and LfbA Claus Withopf. Films by the following students were shown: Karolin Back, Hannes Körkel, David Jahn, Linda Horn, Janine Maschinsky, Jörn von Lutzau, Jung Hyo Kwag, Valentin Denisowski, Magda Mogila, Liliane Buckler, Boris Dörning, Yaschar Scheyda, Marco Russo, Thomas Kneffel, Dana Mikelson, Mira Bussemer, and David Sarno.
On April 16, Claus Withopf premiered the original director's cut of his concert film »ANNE CLARK LIVE« in the highly suitable atmosphere prevailing on the disused industrial landscape on the Hafeninsel. The English New Wave poet presents a repertoire covering more than 25 years. As a pioneer of Electronic music who paved the way for the Techno movement, she creates a unique soundscape to her unmistakable spoken words. Lasting 116 minutes, the film was made simultaneously on nine HD cameras. Students Cornelia Schendel, Tobias Hornig and Denis Carbone were part of the camera crew. HfG alumnus Jörg Ritter was involved in the film project as an editor.
The Luminale title »Pictures for Pilots: Projections for Pilots on the Approach« alludes to the fact that the supposed glare from a pilot coming in to land led to the spectacular deployment of a police helicopter. However, because of the flight ban imposed owing to the volcanic eruption on Iceland, this special target audience was left out of the action.
World Vision Video
For the gala event marking the 30th anniversary of the children's relief organization World Vision Deutschland, students on the Video Practice II course produced a video clip as a semester project in cooperation with the Offenbach elementary schools Bieber and Beethovenschule. In the three-minute film the children relate in their own amusing words what they imagine the work of a children's relief organization to be like and what other children in the world might be lacking. The gala took place on November 26, 2009 in the Palais at Frankfurt Zoo.
Participating students
Linda Horn, Janine Maschinsky, Jörn von Lutzau, Jung Hyo Kwag, Valentin Denisowski
Official thanks World Vision Video
Ms. Schneider and Ms. Klein (Schule Bieber Offenbach)
Mr. Beitler (Beethovenschule Offenbach)
In collaboration
with World Vision Deutschland e.V., Gabriele Rohde and Oliver Müller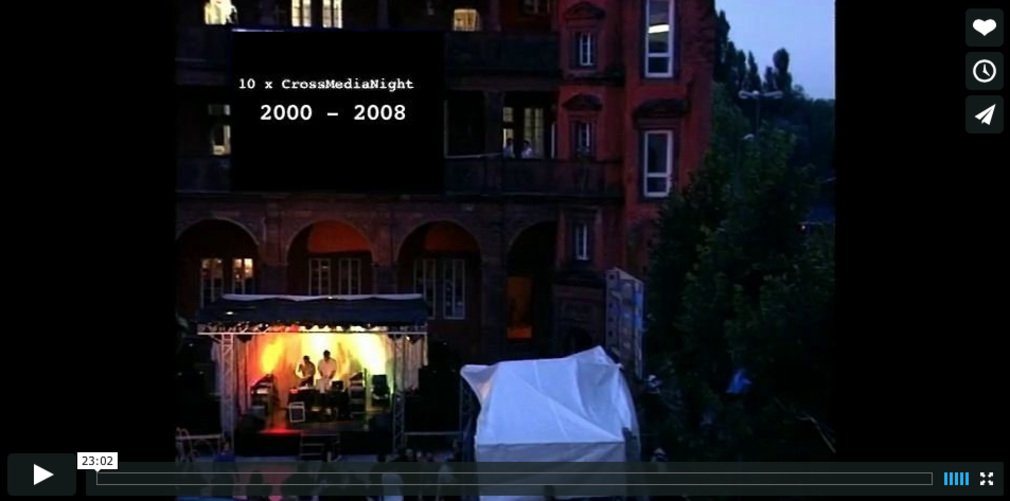 Documentary »10 x CrossMediaNight 2000 – 2008«
A 23-minute anniversary documentary and trailer were produced for the 10th CrossMediaNight 2008 in the Video Practice II course. The first CrossMediaNight 2000 resulted from the end-of-semester presentation by Electronic Image students, and from them on has been held twice a year. Ultimately, CrossMediaNight developed into a permanent feature of the HfG annual show: an evening with video projections, performances, stage shows and live music.
Participating students
Dana Mikelson, Marco Russo, Jessica Sehrt, Lena Ditlmann, Miguel Graetzer, Alexis Guillier
10 x CrossMediaNight 2000 – 2008
Documentary, DV, 23:02 min.
Video Practice II course
Trailer for the 10th CrossMediaNight 2008
Trailer, DV, 00:48 min.
Video Practice II course
​Editing: Jessica Sehrt