Experimental Spatial Concepts
The field of study Experimental Spatial Concepts is an open laboratory for researchers and border crossers of free and applied disciplines.
The focus is on exploring the possibilities of one's own creative/artistic space, discovering specific, personal potentials and developing an authentic, independent work. Spaces of all dimensions are explored, social, communicative as well as virtual systems, within as well as outside of white-cube scenarios.
In addition to individual creative positions, network-oriented, collaborative strategies are also promoted. Work is done in classical as well as new media, with a further focus on situational projects and interventions in public space. The students work in both applied and independent contexts, but preferably in fields beyond the categories.
T

Geleitsstraße, room 103

Function

Artistic staff

T

Geleitsstraße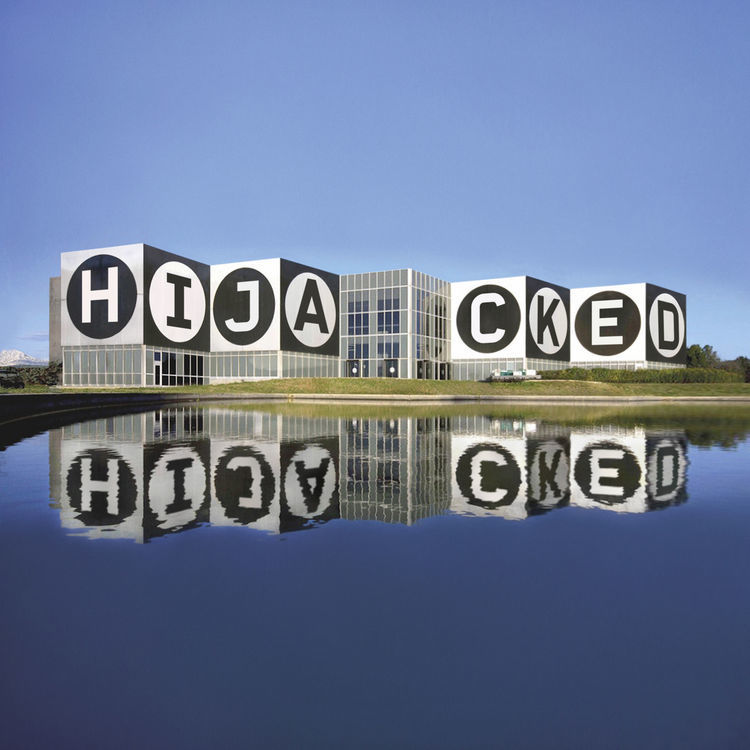 #hijacked
Tagged as #hijacked, students in the department of Experimental Spatial Concepts under Prof. Heiner Blum at HfG Offenbach will showcase their current works in the top of the list contemporary art museums, taking part in numerous exhibitions worldwide.
The Guggenheim New York, the Tate Modern London, the Palais de Tokyo Paris or the Louvre Abu Dhabi will be hijacked on Instagram in the first half of July, to symbolically open up and introduce their spaces to the next generation.
The action is based on an initiative by Jakob Francisco Otter and takes place in the context of the HfG interventions for the end of the summer semester 2020.
Participants
Alena Nebenführ, Alessandro Belliero, Anne Klausmann, Annika Grabold, Barbara Wonner, Barnabas Vollmar, Brigita Noreikaité, Celia Zehetgruber, Christian Leicher, Christina Theodoridou, Clara Sipf, Dominika Bednarsky, Fabio Kempf, Faina Yunusova, Hannah Köhler, Hannah von Eiff, Ilayda Dagli, Inez Vadaz, Isabell Benz, Isabell Hofmann, Isabell Ratzinger, Jakob Otter, Jan Merkel, Jan Trinkaus, Jennifer Bannert, Johann Rambow, Johanna Schuckart, Jonas Koroschetz, Joschua Arnaut , Juewen Zhang, Julian Heuser, Kerstin Weiser, Kevin Egerer, Lars Schwabe, Lena Bils, Lena Stewens, Lenard Lüdemann, Leon Scheiblich, Leonard Stephan, Luis Sulzmann, Malik Arbab, Marie Grosz, Michael Schmidtmann, Michelle Harder, Michelle Korte, Mona Thomas, Moritz Urban, Nicholas Stewens, Nikolas Etzel, Nola Fischer, Oleg Komarov, Oskar Bähr, Pia Seifüßl, Robert Pillenstein, Ron Wohler, Ruth Neubert, Saya Schulzen, Setareh Alipour, Simon Martin,Sonja Herrmann, Sonja Prochorow, Suska Schäffler, Svetlana Mijic, Tee Ly, Tillmann Zizka, Timon Sioulvegas, Un-Zu Ha-Nul Lee, Verdiana Albano, Viktor Krautwig, Zani Arkadina, Zoë Hopf, Zoë Marie-Lena Gillies
Doktorand_innen
Felix Bröcker
Visual staging strategies in art and kitchen
Betreuende: Prof. Heiner Blum, Prof. Dr. Christian Janecke
Jonas Englert
​Manifestations of the historical now
Tutors: Prof. Heiner Blum, Prof. Dr. Juliane Rebentisch
Thomas Dierkes
Aesthetic affirmation as a critical strategy in the artistic representation of National Socialism
Tutors: Prof. Heiner Blum, Prof. Dr. Juliane Rebentisch
bilderSTURM. Art and revolt at the Goethe University Frankfurt in the 1960s.
Tutors: Prof. Heiner Blum, Prof. Dr. Christian Janecke
Lola Läufer
The mechanical flaw. Disturbances in contemporary image techniques
Tutors: Prof. Heiner Blum, Prof. Dr. Christian Christian Janecke
On Dissonance
Tutors: Prof. Heiner Blum, Prof. Juliane Rebentisch
Long-term projects in portrait photography
Tutors: Prof. Heiner Blum, Prof. Christian Janecke, Prof. Klaus Hesse
Patrick Raddatz
Living For The Night
Tutors: Prof. Heiner Blum, Prof. Dr. Marc Ries
Nina Wood
The graphic side of contemporary literature
Tutors: Prof. Heiner Blum, Prof. Dr. Juliane Rebentisch
Carsten Wolff
Willy Fleckhaus. The first archive for the first German art director ​
Tutors: Prof. Heiner Blum, Prof. Dr. Marc Ries
Robert Johnson Theory
Heiner Blum and Patrick Raddatz ​
Robert Johnson Theory is an event of the Offenbach Academy of Art and Design in cooperation with the Robert Johnson Club. Prof. Heiner Blum and Patrick Raddatz present prominent, expert guests - sound specialists, musicians, authors, DJs - with lectures on club culture, production and reception of electronic music. The entrance is free.​
​
​A cooperation between Prof. Heiner Blum of HfG Offenbach and Robert Johnson Offenbach
heinerblum.de
​robertjohnsontheorie.de
​facebook.com/RobertJohnsonTheorie
Robert Johnson Theorie
RJT 01
Thomas Meinecke / Johannes Ullmaier / PRESETS / 4.12.2010
RJT 02
Andreas Lubich / VINYL / 16.6.2012
RJT 03
Tobias Rapp / ZWEI ZEILEN UND DIE GESCHICHTE DER DANCE MUSIC / 25.8.2012
RJT 04
Roman Flügel / VON 101 BIS 909 / 14.09.2012
RJT 05
Monika Rinck / Benjamin Fehr / Patrick Raddatz / IM FEUERSCHEIN / 4.10.2012
RJT 06
Felix Denk & Sven von der Thülen / DER KLANG DER FAMILIE / 20.10.2012
RJT 07
Andreas Schneider / SCHNEIDERS BÜRO / 10.11.2012
RJT 08
Ata Macias / MARIONS SCHALLPLATTENBOUTIQUE / 12.01.2013
RJT 09
Sascha Koesch / Debug / MYTHEN DES DANCEFLOORS / 16.2.2013
RJT 10
Karl Kliem / VIDEO / 23.3.2013
RJT 11
Efdemin / 100 JAHRE TECHNO / 29.5.2013
RJT 12
Markus Weisbeck / TECHNO STYLE / 15.06.2013
RJT 13
Stephan Plank / CONNY PLANK / 20.7.2013
RJT 14
Kristian Beyer (Âme) / WONDERLAND / 10.8.2013
RJT 15
Frank Bretschneider / KARL-MARX-STADT, KOMPUTER UND KLANGFORSCHUNG / 12.10.2013
RJT 16
Dick Hebdige / DANCING, DIVING, DIGGING: GOING UNDER, GETTING DOWN / 2.11.2013
RJT 17
Thomas Meinecke / ANALOG / 7.12.2013
RJT 18
Klaus Walter / AUTOTUNE, KÖRPERTUNING, PORNOBEATS / 25.1.2014
RJT 19
Atom TM / HARD DISK ROCK / 29.3.2014
RJT 20
Mark Fisher / HERE'S A GROUP TRYING TO DO ONE THING, AND THAT IS TO GET INTO THE FUTURE / 12.4.2014
RJT 21
Schorsch Kamerun / PUDELCLUB / 10.5.2014
RJT 22
Hans Nieswandt / NEW YORK HOUSE / 31.5.2014
RJT 23
Thomas Fehlmann / HAPPY ACCIDENTS / 21.6.2014
RJT 24
Volker Zander / FRANKFURT 1974: MOONDOG, KRAFTWERK, INTERMODULATION / 2.8.2014
RJT 25
Alex Lindblad, Alma Poric / BOOKING / 4.10.2014
RJT 26
Michaela Melián / ELEKTRONISCHE WELTORGEL / 1.11.2014
RJT 27
Ata Macias / ALLES IST GUT / 22.11.2014 / in Kooperation mit dem MAK Frankfurt
RJT 28
Stephan Plank / KRAUT / 6.12.2014 / in Kooperation mit dem MAK Frankfurt
RJT 29
Electric Indigo / FEMALE PRESSURE / 24.01.2015
RJT 30
Sven Marquardt / DIE NACHT IST LEBEN / 28.02.2015
RJT 31
Rüdiger Esch, Wolfgang Flür / ELECRI_CITY / 28.3.2015
RJT 32
Helena Hauff / 23.05.2015
RJT 33
Olaf Karnik / JOHN CARPENTER / 20.6.2015
RJT 34
Patrick Raddatz / HOUSE NATION BRD / 11.7.2015
RJT 35
Mark Ernestus, Michael Zähl / KONSEQUENT ANALOG / 3.10.2015
RJT 36
Brian Eno / WHAT I COME FROM or WHERE I STOLE ALL MY IDEAS or ALL THE THING I REPACKAGED AND SOLD AS MINE or ONE DAY I'LL HAVE AN IDEA OF MY OWN … I PROMISE ... / 10.10.2015
RJT 37
Michal Matlak / R WIE ROLAND / 21.11.2015
RJT 38
Dimitri Hegemann / DIE KRAFT VERGESSENER RÄUME / 12.12.2015
RJT 39
Acid Maria / ACID / 30.1.2016
RJT 40
Frank Witzel / REDE EINES ERWACHSENEN TEENAGERS VOM WELTGEBÄUDE / 5.3.2016
RJT 41
Tilman Baumgärtel / SCHLEIFEN / 9.4.2016
RJT 42
The Black Madonna / SOUND AS SITUATION: DANCE AND CRISIS / 7.5.2016
RJT 43
Nanette Fleig, Lilo Unger / SO 36 / 11.6.2016
RJT 44
Daniel Pflumm / MINIMAL ELEKTRO / 23.7.2016
RJT 45
Adrian Sherwood / INTO DUB / Gastmoderation Klaus Walter 22.10.2016
RJT 46
Tim Lawrence / LIFE AND DEATH ON THE NEW YORK DANCEFLOOR / 10.12.2016
RJT 47
Florian Hecker / ÜBER DEN KLANG ALS IMMATERIALIE: IANNIS XENAKIS / 21.1.2017 / in Kooperation mit dem MMK Frankfurt
RJT 48
Marc Nothelfer / FROM THE BLACK ATLANTIC TO THE UNKNOWN AQUAZONE / 11.03.2017
RJT 49
Colin Self / TROUBLED ASSEMBLIES / Gastmoderation Britta Thie / 17.05.2017
RJT 50
Holly Herndon / Gastmoderation Britta Thie / 14.06.2017
RJT 51
Rainer Kohlberger / VISUELLE MUSIK / 08.07.2017
RJT 52
Stephan Plank / THE POTENTIAL OF NOISE / 15.09.2017 / in Kooperation mit der Me Convention in der Frankfurter Festhalle
RJT 53
Oliver Bernstein / PRESSWERK / 11.11.2017
RJT 54
Jace Clayton / UPROOT / Gastmoderation Christoph Gurk / 09.12.2017
RJT 55
Shantel / DIE WELT IM CLUB / 13.01.2018
RJT 56
Tom Simmert, Leo He Zhao / RE:BOOT AFRICA / 03.02.2018
RJT 57
Daniel Best / VON G.I.BLUES ZU G.I.DISCO / 10.03.2018
RJT 58
Daniel Haaksman / TRANS ATLANTIC EXPRESS / 28.04.2018
RJT 59
Wolfgang Voigt / LECTURE & CONCERT / 12.05.2018
RJT 60
Laurel Halo / LECTURE & CONCERT / Gastmoderation Britta Thie / 02.06.2018
RJT 61
Goto80 / HOW 8-BIT MACHINES CHANGED ELECTRONIC MUSIC / 20.10.2018
RJT 62
Mike Huckaby / 313 / 3.11.2018
RJT 63
Jan Jelinek / FAITICHE / 1.12.2018
RJT 64
Isenburg Quartett / MINIMAL / 26.1.2019
RJT 65
Klaus Walter / VON LET ME GO ZU LFO / 23.3.2019
RJT 66
Anne Imhof w/ Billy Bultheel / MUSIK / 13.4.2019
RJT 67
Dieter Meier (Yello) / 10.5.2019
RJT 68
Melanie Fritsch / ON AND ON, GAMES MUSIK UND CLUBKULTUR / 18.5.2019
RJT 69
Gudrun Gut / 8.6.2019
RJT 70
Levon Vincent / EXPLORING THE GOLDEN RATIO AND METHODS OF APPLICATION IN ELECTRONIC MUSIC / 26.10.2019
RJT 71
Simon Reynolds / ROOTS AND PHUTURE: UK RAVE AND THE HARDCORE CONTINUUM / 16.11.2019
RJT 72
Oliver Hafenbauer / URBAN PLANNING / 14.12.2019
RJT 73
Pietro Anton / ITALO DISCO / 11.12.2019
RJT 74
Tommi Grönlund / SÄHKHÖ RECORDINGS / 1.2.2020
RJT 75
Suzanne Ciani / 28.2.2020 / in Kooperation mit El Barrio und MAK Frankfurt
Institute for Sound Research
Institute for Sound Research
Audiosupport
Founded in 2013 by Heiner Blum, the Institute for Sound Research (IfK) promotes artistic audio productions and producers. It focuses on experimental and electronic sound productions in the fields of track, installation, audio plays, performance, and concert.
In lectures, workshops, sessions and excursions the institute supports the transfer of knowledge in sound research and creates inspiring new opportunities. The institute's studios enable creative freedom for cross-border experiments.
The way the institute works is deliberately nomadic, discursive, flexible, developing strategies, processes and actions in open design processes. It is a network, forum, and platform for producers and artists.
With its range of services it complements the teaching at HfG Offenbach, Frankfurt University of Music and Performing Arts (HfMDK), the Städel Academy and the Institute for Applied Theater Studies in Giessen. The institute also supports independent sound artists and producers.
As of July 2014 the Institute for Sound Research has been based in the Zollamt Ateliers in downtown Offenbach. Here there are studios for producers, an office, as well as a communal and workshop sound lab. The HfG Offenbach event and exhibition rooms on the ground floor of the building can also be temporarily used for larger events. Other events are held in the Städel Academy sound lab in Frankfurt, the HfG Offenbach palace chapels and the Robert Johnson club in Offenbach.
The Institute for Sound Research works in the following formats
Workshops on audio basics, mastering and audio software (Ableton, Cubase, Logic, Max MSP, Protools …)
Hands-on hardware workshops
Workshops on: sound installation, audio plays, performance, dance
Lectures and seminars with speakers from theory and practice
Robert Johnson Theory, series of lectures on club culture
1:1 sessions with renowned sound producers
Excursions and on-site encounters
Events, concerts, symposiums
Support of free projects
IfK studios
A project group comprising students from the participating universities and independent producers discusses and develops current and future IfK projects and formats.
Project group
Philipp Bergmann, Heiner Blum, Sven Hergenhahn, Patrick Raddatz, Sabine Schmidt, Matthias Schönijahn, Cédric Dekowski, Felix Reifenberg, Max Vaahs​
Annual show 2014 Kappus soap factory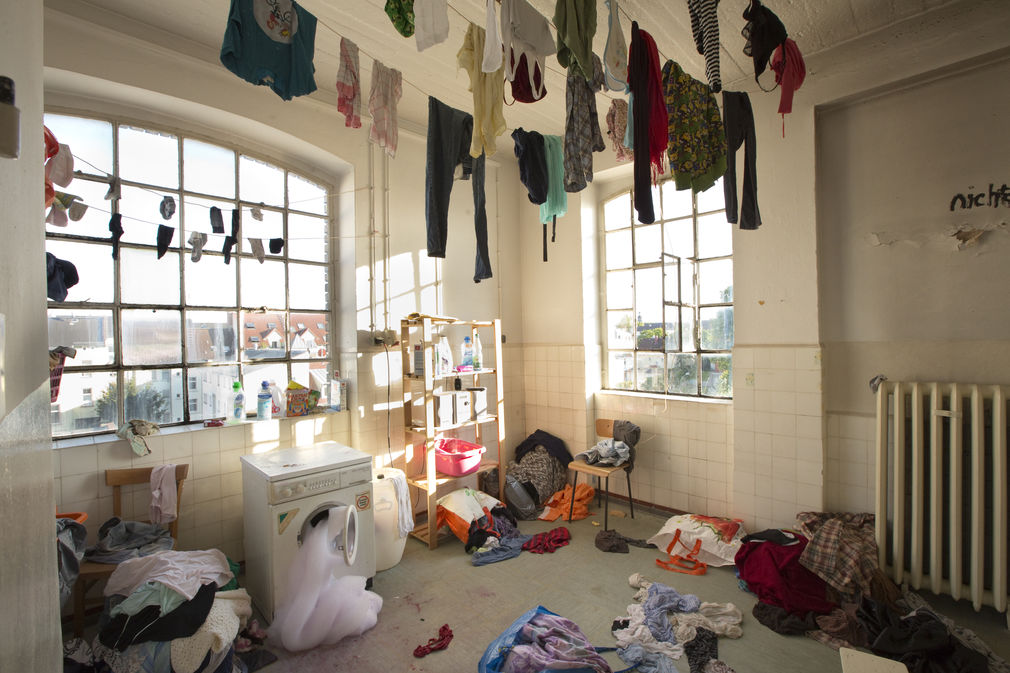 Annual show 2014
At the 2014 HfG Offenbach annual show 60 students from the Experimental Spatial Concepts class studying under Prof. Heiner Blum displayed their works in the premises of the Kappus soap factory in downtown Offenbach.
With the generous support of Kappus soap factory and satis&fy AG Deutschland
Participants
Alessandro Belliero, Alina Lottmann, Alla Zakiullina, Andrea Köhler, Anna Seeger, Anna Sukhova, Aram Lee, Arootin Mirzakhani, Camilo Brau, Chengtian Luo, Cosima Peth, Craig Leonard, Domenico Laterza, Ella Pechechyan, Erwin Lii, Felix Kracke, Fred Besier, Georg Thanner, Gilda Weller, Ida Emilie Sabro Jensen, Isabel Scheid, Jaewon Chung, Janine Baechle, Janine Maschinsky, Jennifer Katarina Gelardo, Jonas Englert, Julia Lottmann, Juliane Kutter, Julie Gaston, Kathrin Baumgartner, Ketty Van Doln, Kim Hyewon, Lena Bakonalim, Leonie Döpper, Lisa Hopf, Maciej Medrala, Marco Poblete, Marek Kochanowicz, Marie Leicht, Marina Kampka, Marlene Benet, Martin Dörr, Mathias Weinfurter, Max Barthel, Max Brück, Moritz Urban, Patrick Brockmann, Paul Heyduck, Philipp Schönfeld, Polina Livshits, Polina Tsvetkova, Sarah Mohr, Sonja Borstner, Sonja Sofia Yakovleva, Thekra Jaziri, Theresa Ernst, Tom Krol, Valerie Eisenmann, Viviane Niebling, Wiola Kuzniak, Rudi Weißbeck, Yi Zhang
Supplementing the City
Cooperation with the Endowment Professorship of Creativity in an urban context, Prof. Kai Vöckler (2013)
Together with Prof. Heiner Blum and Prof. Kai Vöckler, an interdisciplinary working group comprising students from both departments and friends came up with ideas aimed at supplementing the city with things it lacks. Prof. Marc Ries and Prof. Peter Eckart added their support.
Unusual concepts were intended to breathe a new lease of life into vacancies in downtown Offenbach. The vacant "City Passage" in the pedestrian precinct became the "Intercity Passage"; new spatial strategies were tested. Furniture was assembled live from disposable objects, a hammock bar was a pleasant place in which to linger, there was Indian and Mexican food, flags were designed together with inhabitants and positioned in the city, there were experimental music performances, and new forms of exchanging and buying clothes could be put to the test, as could design objects. This temporary lease of life aimed to supplement and perpetuate the range of venues for students and creative minds in Offenbach. It became evident that there is a lack of meeting places and places for exchanging ideas and opinions in the city, which as a result should be developed.​
Working group
Aldin Sakic, Annkathrin Kluss, Benjamin Slattery, Bettina Hamm, Helena Reinsch, Isabel Blumenthal, Jascha Bernhard, Kevin Egerer, Kim Lotte Stöber, Lilja Friedemann,Markus Paulix, Moritz Urban, Nico Anthony Mason, Nora Etmann, Pablo Olivari, Sascha Dietzel, Isabel Scheid, Maurice Zimmer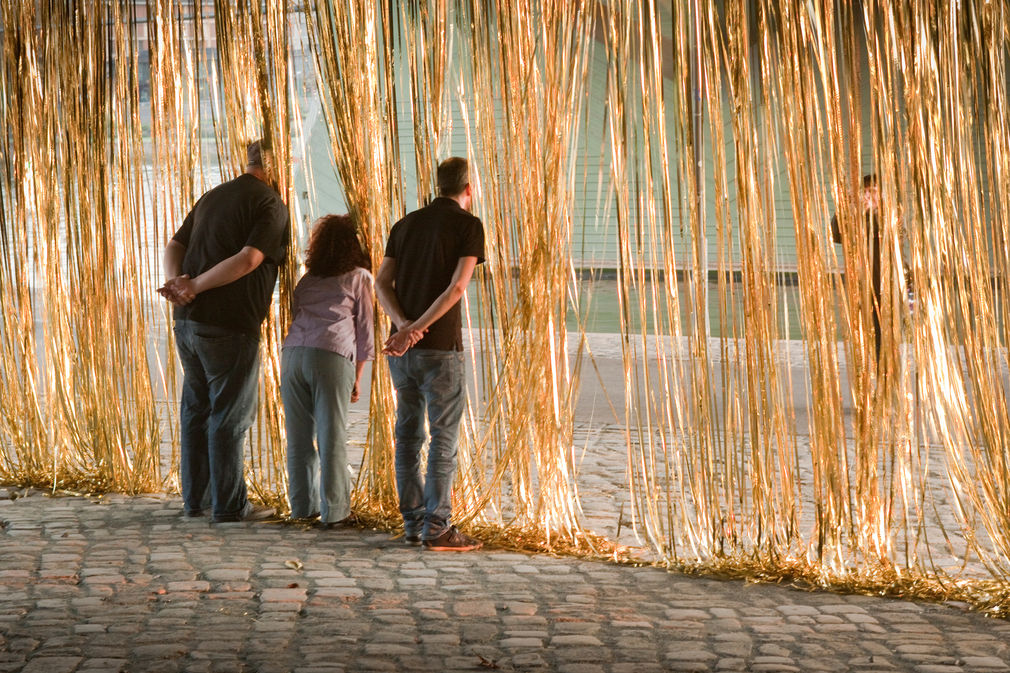 Conception and Artistic Director
Prof. Heiner Blum, Jakob Sturm
xqm team
Céline Scherer, David Bausch, Jennifer Gelardo, Gilda Weller, Heiner Blum, Jakob Sturm, Janine Maschinsky, Johanne Schröder, Manuel Roßner, Ruben Fischer, Sascha Dietzel, Thekra Jaziri, Yacin Boudalfa
xqm – Realtor for the Public Domain
To whom does the space between buildings belong? (2011)
From May to October 2011 xqm conducted a total of 54 projects in five blocks in the public domain in downtown Frankfurt. In busy districts, regarded as prime locations, xqm identified architectural and urban design situations which have no clear function, but whose spatial circumstances, e.g., "a roof over one's head" have potential for alternative use. In the manner of a realtor, xqm advertised these spaces and invited people with good ideas to use them for their own initiatives, projects, and experiments in the public domain.
xqm kicked off with a strategy of staking out spaces between column quads, in passageways, in public art works, and between trees and, depending on the particular project requirements and according to a simple principle, securing them with tarpaulin. This created "pieces of architecture" which fitted in with the minimal need for spatial demarcation and created a stage for the projects. During the course of the projects the original portfolio of available spaces was expanded by the users freely taking charge of other places. The manner in which the available tarpaulins were handled also became increasingly free.
The main concern of xqm was to open up inner-city public space very much dominated by consumerism for needs and activities that basically pursued a communicative interest. The aim was to make projects possible for which in this form there is no existing framework or established formats and spaces, and to provide a platform for needs for which there is no room in the public domain.
The xqm team discussed and developed the proposed project ideas together with the initiators, provided the requisite materials, assembled them as desired and provided support with the staging of the projects.
Artistic Directors
Heiner Blum, Jakob Sturm
Universal project group since 2004
Altan Eskin, Andreas Schmidt, Anna Cruse, Benjamin Knabe, Christian Strobel, David Borchers, Gisela Kramm, Hannibal Tarkan Daldaban, Helena Schlichting, Heike Prehler, Inken Helldorfer, Jan Brand, Jan Lotter, Jeannine Fernandez, Jessica Schäfer, Marc Nothelfer, Michaela Binder, Mikko Hilgert, Oguz Sen, Olga Schulz, Pablo Martin de Jesus Garcia Pacheco, Rahel Seitz, Sandra Havlicek, Stefanie Humbert, Steve Valk, Sven Prothmann, Tania Lescano, Valerie Sietzy, Verena Friedrich, Veronica Aguilera Carrasco, Viviana Bravo-Botta
Universal
An event label for the public domain (2004)
Taking Universal as its title, Heiner Blum and Jakob Sturm, together with an extended project group from HfG Offenbach, created a discourse and project platform for the public domain. "Universal" is an initiative for promoting self-determined, communicative and creative actions at work, in leisure time, and in everyday processes.
Universal supports and links people and projects, facilities and initiatives that play an essential creative role in the social structure and community life in the region. It encourages and supports projects at various levels: temporary, communal, cultural, intercultural, social – down to those which offer individuals or a group an existential perspective.
​
Since Universal was founded in 2004, its objectives have been formulated in various concept papers. Here are some excerpts from a paper by the 2006 project group:
​»Universal is a symbol of departure and self-determined action. Beyond the multiple choice propositions that politics, culture, and business offer with regard to existential differentiation, people stop waiting and assume control of their own existence and development.
Universal is an interface between feeling, thinking, and doing. It prompts people into assuming responsibility and offers an opportunity for self-development, self-help, self-service, and self-relaxation. It demands and promotes personal and collective creativity. It is an anti-remote control and searches for specific solutions for specific potentials. It is a sort of transit zone that crosses the threshold between staying silent and speaking, thinking and doing, feeling and making tangible, between sleeping and being awake, idleness and work, creating and realizing. Universal takes dreams by the hand.
Universal fills a vacuum. Our social systems offer diverse spaces for specific groups. There are places to go for children, youths and older people. Places for addicts, the persecuted, battered, homeless. As a rule, places for normal people are geared to differentiated scenes and are in far too many cases consumer-oriented. For every need there is a product, yet none of these products seem to satisfy people in their innermost selves. Universal sees itself as the focus of communicative processes, as a laboratory and transitional space for developing new perspectives on work, money, and free time.
Universal is a concentration of human energies in time and space. For the duration of its existence it creates an atmosphere of stirring, focusing vitality. Universal nestles in the spacious vacancy of the urban zone. A spacious multi-functional place is the heart of the activities. It exists in the center of town and is available to the living. Situations and actions are the core of Universal. It is open for all interested and curious people who would like to put a vision into practice. In terms of content the focus is on projects with a service and production character; there are no airs about it, no superficial vanity, no exhibitions or art in the classic sense. It is a place for doing what you always wanted to do, a space for what actually is, for big and small dreams. Universal's energy feeds on the forum of all people in the city who are creative and keen to experiment.
Café Universal is provisional and keen on improvisation. The café is the local heart of Universal. Like a chameleon its open layout adapts to the needs of its users. It has areas of differing size and promotes the coexistence of variable and divergent projects. The various levels have room for large and small-scale activities, which can be conducted for minutes, a long period of time, or effectively at intervals. Café Universal almost never sleeps. It opens in the morning and keeps on pulsating until late at night.
With its satellites, Universal creates acupuncture points in an urban context. It has mobile action and presentation units, which can be used in the public domain as variable project platforms.
Universal is by nature an open project.«
Schmalclub
Experimental club project, Theater am Turm, Frankfurt/Main (2000 to 2003)
Under the artistic directorship of Heiner Blum and under the aegis of William Forsythe, students at HfG Offenbach developed an experimental club concept which very quickly acquired a firm following.
The venue and starting point for the project was Theater am Turm in Frankfurt/Main, an old streetcar depot and its surroundings. Schmalclub was not a theater, party, exhibition, event, or performance. It was a part of life.​
With the collaboration of
Verónica Aguilera, Nicole Algieri, Silke Bauer (Entwicklung und Stimmung), Michael Bennett, Heiner Blum (Künstlerischer Leiter), Jan Brand, Ilka Brosch, Mogli Cruse, Julia Diehl, Regine Eckel, Bernd Euler (Technischer Leiter), Benjamin Fehr, Corinna Gab, Hanna Habermann, Larissa Hartmann, Célestine Hennermann, Bernd Hollin, Stefanie Humbert, Tanja Jesek, Leonard Kahlcke, Thomas Keller, Susanne Kessler, Gregor Knüppel, Patrick Koch (Erster Vorsitzender), Tina Kohlmann, Ilka Kops, Gisela Kramm, Erickson Krüger, Bettina Lauck, Tania Lescano, Kerstin Loose, Sandra Mann, Denise Mawila, Domingo Molina Cortés, Peter Müller, Marc Nothelfer, Johanna Piltz, Heike Prehler, Betty Rothe (Entwicklung und Stimmung), Nina Ryba, Tanja Schuh, Martin Schwember, Valerie Sietzy, Sangram Singh Pabla, Steve Valk (Dramaturgie), Nina Werth​
Robert Johnson
Initiative for founding a club (2000)
In the year 2000 in Offenbach, on the city boundary with Frankfurt, on the initiative of Heiner Blum Ata Macias and Sebastian Kahrs founded the Robert Johnson, one of the most legendary clubs for functional electronic music worldwide.
The images show an installation by Daniel Herrmann, at the time a student at HfG Offenbach, who between 2000 and 2002 photographed the goings-on in the club and in various stages installed the images as wallpaper.
​
Calendar
23 May 2015 until 28 February 2020
News
3 months ago
Als Kunsthochschule des Landes Hessen praktiziert die HfG Offenbach eine zeitgenössische und zukunftsorientierte Lehre, die durch einen vielfältigen Austausch zwischen den freien, den angewandten und den theoretischen Fachgebieten gekennzeichnet ist. Die HfG hat zwei...
9 years ago
ROBERT JOHNSON THEORY 28
In cooperation with Heiner Blum from HfG Offenbach ROBERT JOHNSON THEORIE ipresents a casual succession of prominent, expert guests – sound specialists, musicians, authors, DJs – with talks on club culture and the production and reception of electronic music. On 6 December,...
9 years ago
ROBERT JOHNSON THEORY 27
In cooperation with Heiner Blum from HfG Offenbach, ROBERT JOHNSON THEORIE presnts in casual succession prominent, expert guests – sound specialists, musicians, authors, DJs – with lectures on the topic of club culture, production and reception of electronic music. On 22...
9 years ago
ROBERT JOHNSON THEORY 26
In cooperation with Heiner Blum from HfG Offenbach ROBERT JOHNSON THEORIE presents a series of talks by prominent, experts – sound specialists, musicians, authors, DJs – on club culture, production and reception of electronic music. On 1 November, 2014 it's the turn of...
9 years ago
ROBERT JOHNSON THEORY 25
In cooperation with Heiner Blum from HfG Offenbach ROBERT JOHNSON THEORIE presents a series of talks given by prominent, experts – sound specialists, musicians, authors, DJs. The topics: club culture, the production and reception of electronic music. On 4 October, 2014 Alex...