Performance in the extended context
T +49 69 800 59 173

Geleitsstraße, room 2.OG

Function

Research Associate

T

Geleitsstraße
Doktorandin
Julia Hainz
Aesthetics of Fluidity
On performative difference in the beyond of capitalist flexibilizations
Supervisors: Prof. Kerstin Cmelka, Prof. Dr. Juliane Rebentisch
Annie Kurz
Offline, unplugged, disconnected... A postphenomenological inquiry into absence relations to technologies.
Supervisors: Prof. Kerstin Cmelka, Prof. Dr. Marc Ries
Nowadays performance is a popular art form and, generally speaking, a relatively new course of studies. As with most other artistic disciplines however, it has, since time immemorial, been practiced by people both within and outside the context of art, consciously and unconsciously, and passed on from one person to another.
The course of studies Performance im erweiterten Feld (Performance in the extended context) is geared to those students who wish to try their hand at performance as an independent artistic medium. Performance im erweiterten Feld comprises looking at, developing and producing performative actions, including the stages and contexts in which these take place.
The artistic performance stands in generic contact, in a living relationship and a constant exchange with the fields of acting, Actionism, dance, music, installation, sound work, with work using the voice and the body, with (virtual) play scenarios, with choreography, staging and directing work. These are constantly being augmented by new fields. After all, performance is an expansive medium, one which is interdisciplinary and which is constantly incorporating other media and claiming the latter as its own. Between the performance itself and its reception, yet other time-based media are at work, not only audiovisual recording and storage media (film/video/audio/photography) but also of the kind that serve (scientific) research purposes and can themselves become performances.
As part of the course of studies that is Performance im erweiterten Feld we will also be focusing on these neighboring and affiliative fields, as well as on performance-inherent qualities and techniques and including such elements as body action, practical workshops and lectures. Efforts at shaping time and molding the scope of technical and media-related activities will be encouraged and developed. Working with, developing and reproducing practical and theoretical approaches in and outside the protagonists' comfort zones will lead to the ability to stretch and expand the boundaries of performing as well as those of the performers.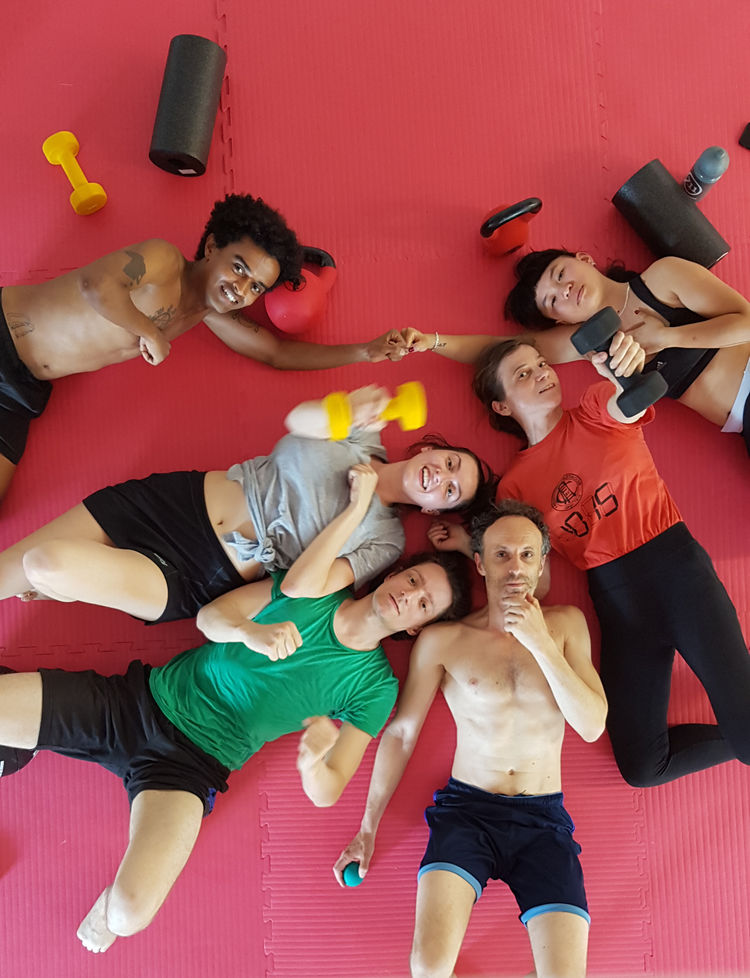 Körperarbeit im Lehrgebiet Performance im erweiterten Feld:
Körperliche Techniken und Übungen werden mit dem Lehrbeauftragen für Performance im erweiterten Feld, Mario Mentrup, in Kleingruppen vorgestellt, trainiert und angewandt: Flexibilität, Mobilität, explosive Kraft, Eigengewichtstraining sowie das Training mit Gewichten (Steelmace und Kettlebell), Funktionen von Bewegungsabläufen und Körper-Raum-Verhältnissen.
Die Geräte im Lehrgebiet Performance im erweiterten Feld und die damit einhergehenden Trainings- und Ausbildungsmöglichkeiten, die die Studierenden benutzen können, bilden eine Erweiterung zum Unterricht im Lehrgebiet, genauso wie einen Motor für die Erschließung und Erarbeitung von eigenen, künstlerischen Performances. Erweitert wird die Körperarbeit und das gemeinsame Training durch aktuelle Diskurse über Performance und Mobility, Körper- und Krafttraining sowie Fitnesstrends, das Training von physischer und mentaler Stärke und dessen Expansionsmöglichkeiten in Choreographien, Kampfkunst und deren Derivate in Performance und Schauspiel.
Weiterführende Informationen
Körpertraining mit Mario Mentrup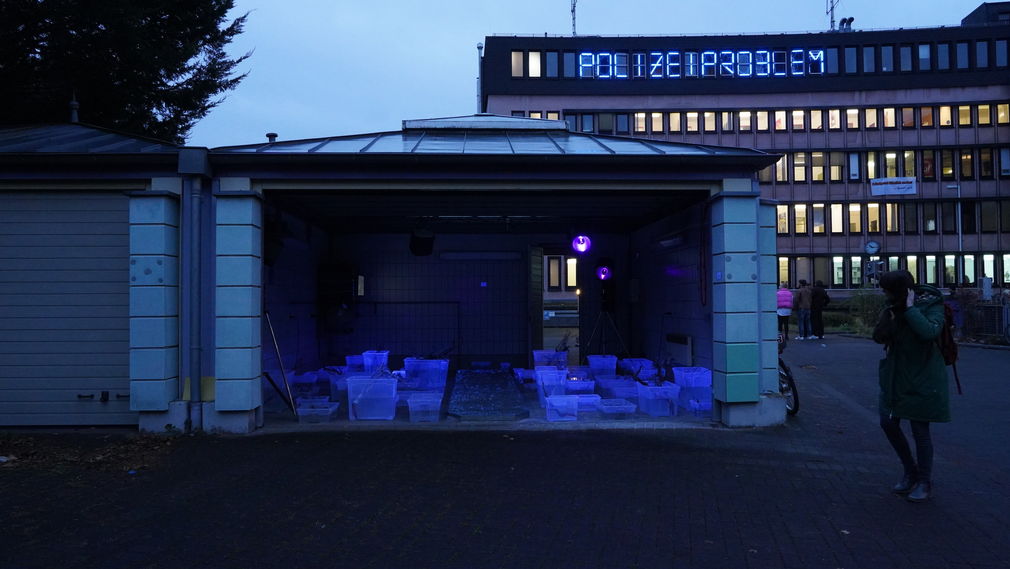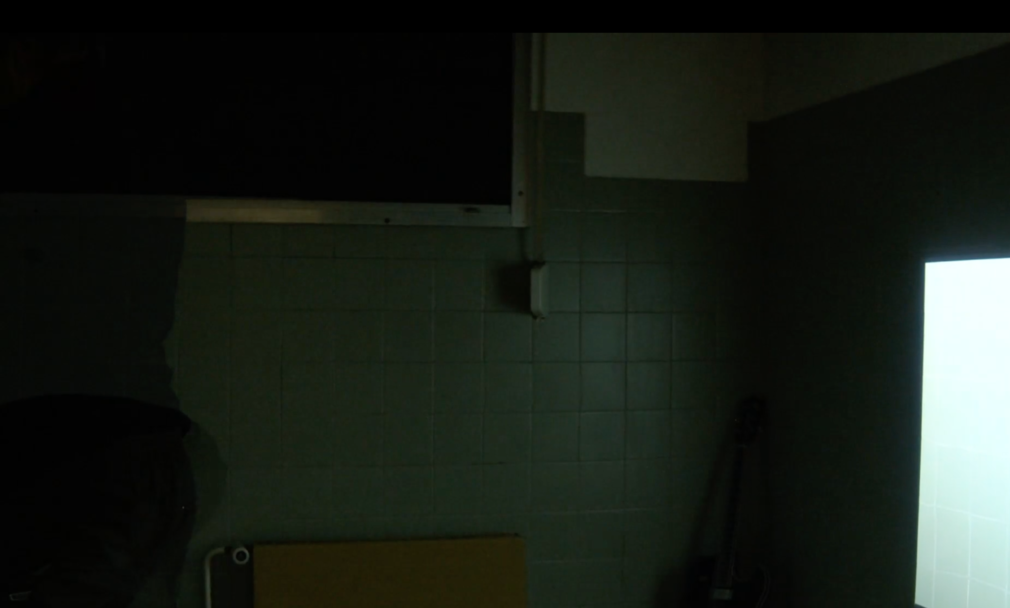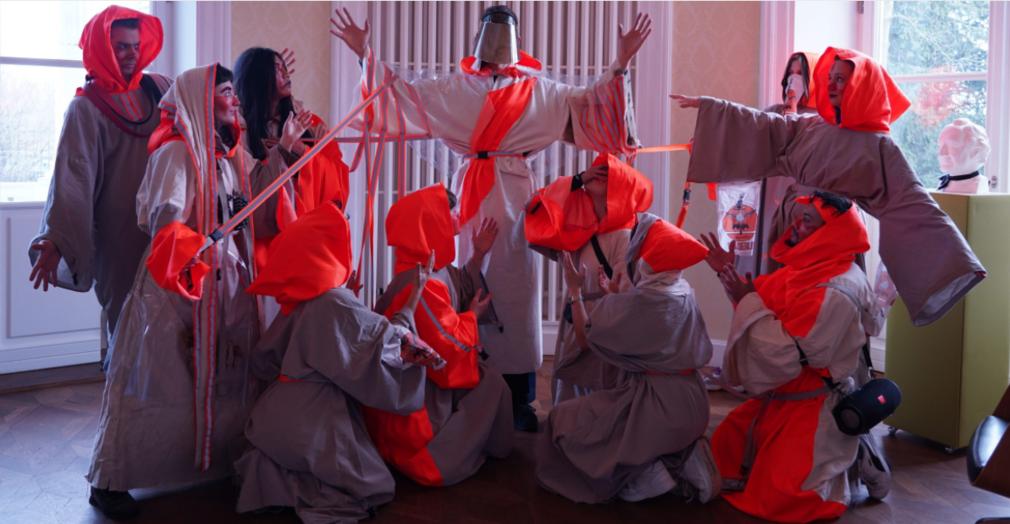 Die Zweckgemeinschaft Hölderlin
Die Zweckgemeinschaft Hölderlin ist eine moderne Lebensgemeinschaft, die sich aus der Außenseiterposition heraus mit Ideen der Lebensführung, -reform und -optimierung sowohl praktisch als auch theoretisch auseinandersetzt.
An raren öffentlichen Ereignissen, wie beispielsweise dem Offenbacher Fastnachstumzug, ist sie bereits – aus Zwecken der Selbstpromotion und des Gemeinschaftserlebnisses – in Erscheinung getreten.
Aufgrund der Biographie ihres Zentrums, Friedrich Hölderlin, sowie des Nischencharakters einer Remise am Rande des illustren Parks in Bad Homburg, beging sie schließlich im Frühjahr 2021, nach langem Getrennt-Sein, einen Umzug nach Bad Homburg und lud zu einer »Tag-Der-Offenen-Tür-Performance« in die Abgeschiedenheit der Remise im Gustavsgarten ein, um ihre Ideen, Riten und Heilsversprechen innerhalb der Ausstellung »O! Johannd Christian Friedrich Hölderlin« zu demonstrieren und verbreiten, ihre Außenrepräsentanz zu stärken sowie auch ihre partielle Zersplitterung zu diskutieren und endgültig zu lösen.
Weiterführende Informationen, Filme und Bilder zur Zweckgemeinschaft Hölderlin
Teilnehmende
Sarah Melz, Max Barthel, Dagmawi Negussie, Nelly Gomez-Baumert, Luca Ganz, Yannick Brenden, Sulamith Bereither, Katharina Hantke, Lejla Kadic, Nora Schön, Balduin Mund, Tee Ly, Nikolaus Kockel, Lana Bub, Ardesia Calderan, Deniz Kilicarlsan u.v.a.m.
Body Sound Performance
»Body Sound Performance« ist eine experimentelle Performance-Anordnung, in der Körperarbeit mit Geräten und Gewichten sowie Live-Musik generisch in Zusammenhang gebracht wird. Bewegungsabläufe aus dem Training mit freien Gewichten, der Selbstverteidigung und dem Kampfsport, Mobility, Movement- und Tanzchoreographien sowie Abhärtungstechniken verbinden sich mit analoger Musikproduktion (Bass, Gitarre, Schlagzeug, Gesang) zu einem Perpetuum mobile, das Konzentration und Durchsetzungsvermögen, Empathie und Teamfähigkeit neu ordnet. Oft kooperiert die Body Sound Performance auch mit Zeichner_innen, die die Grenzen der Performance weiter dehnen.
Aufführungen: »Ceci n´est pas un Rungang«, 2020 und B3 Biennale 2020 »Hello Truths! Extravaganza Virtuale«
Dokumentationen
Ceci n´est pas un Rundgang
Im Juli 2020 öffneten Studierende des Lehrgebiets Performance im erweiterten Feld die Tore der HfG und boten unter dem Titel »Ceci n´est pas un Rundgang« einen exklusiven, immersiven Rundgang durch das Gebäude der HfG Offenbach an. Der 30-minütige Erlebnis-Gang beinhaltete thematische Führungen, Performances, Fitnessparcours, eine Ausstellung, offene Klassen, Individual-Workshops, echte Menschen und Musik.
Videodokumentationen mit interaktiver Karte
Recording Room
»Recording Room« ist ein interdisziplinäres Projekt der Lehrgebiete Performance im erweiterten Feld und Elektronische Medien, das 2021 zunächst im Rahmen der Jubiläumsausstellung »Aus heutiger Sicht. Diskurse über Zukunft« im Museum Angewandte Kunst Frankfurt/Main von Prof. Kerstin Cmelka Prof. und Alex Oppermann initiiert und organisiert wurde.
Über die Dauer von zwei Monaten wurden wöchentlich eigens für die Räume des Museums entwickelte Konzerte, Performances, Installationen und Shows live inszeniert und übertragen. Dabei handelte es sich um echte »live events«, die Aufzeichnungen waren nicht direkt in Mediatheken abrufbar, kein Fehlstart und keine Wiederholung waren möglich. Ein Publikum geringer Personenanzahl konnte die Verfertigung der Streams teilweise per Anmeldung besuchen.
Der mobile »Recording Room« wird nun nach der Ausstellung »Aus der heutiger Sicht« fixer Bestandteil der HfG Offenbach und eröffnet den Studierenden Möglichkeiten, das Format des Live-Streamings zu analysieren, zu hinterfragen, auszuprobieren und zu expandieren.
Live-Streams Recording Room
Beteiligte Künstler_innen waren:
Fan-Yu Pu, Julia Heinz, Veronika Haller, Tieu Anh Ly, Katharina Hantke, Lisa Nürnberger, Barnabas Vollmar, Max Barthel, Ekaterina Sacharova, Luca Ganz, DER BAND IN DER HECKE, Marta Yankovska, Maral Mudok, Veve Vega, Negoucé & Ocelot und viele Gäste
Technisches Team
Luca Ganz, Elisa Deutloff, Jakob Dieckmann, Jonas Koroschetz
Workshop mit Filmemacher Rouzbeh Rashidi
Vordiplom Sarah Melz
»Überlebensnotwendige Mobilitätskonzepte im Wendekreis des manisch depressiven Rebhuhns zu den poetischen Gesängen meiner Pendelhubstichsäge«, 2021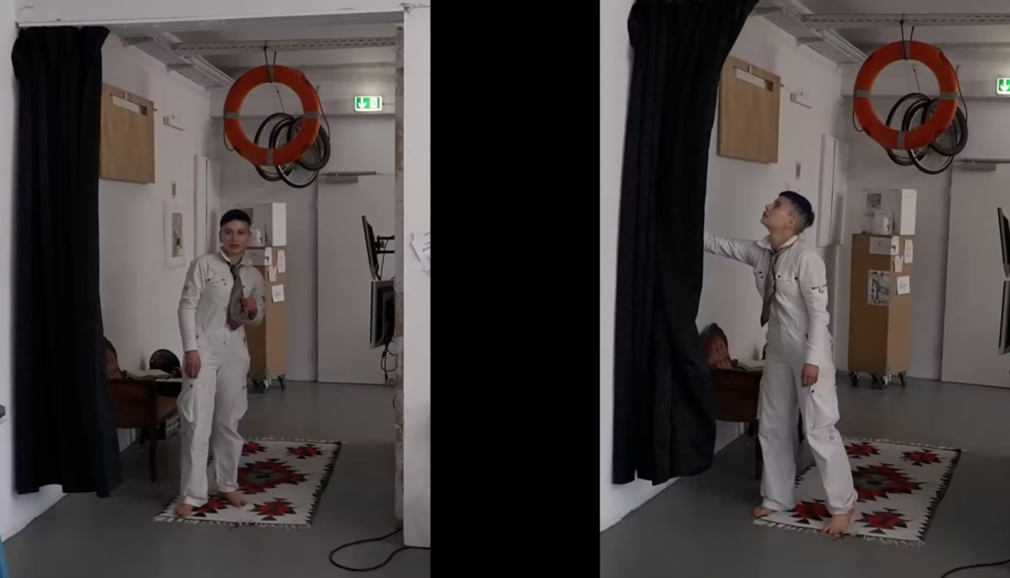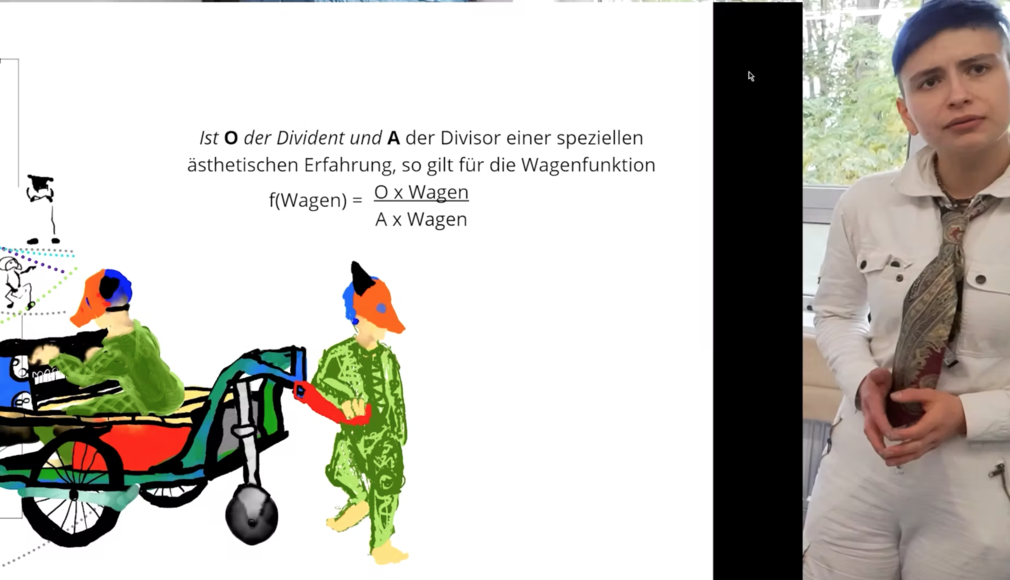 Vordiplom Joelle Pidoux
»Future Correspondences«, 2021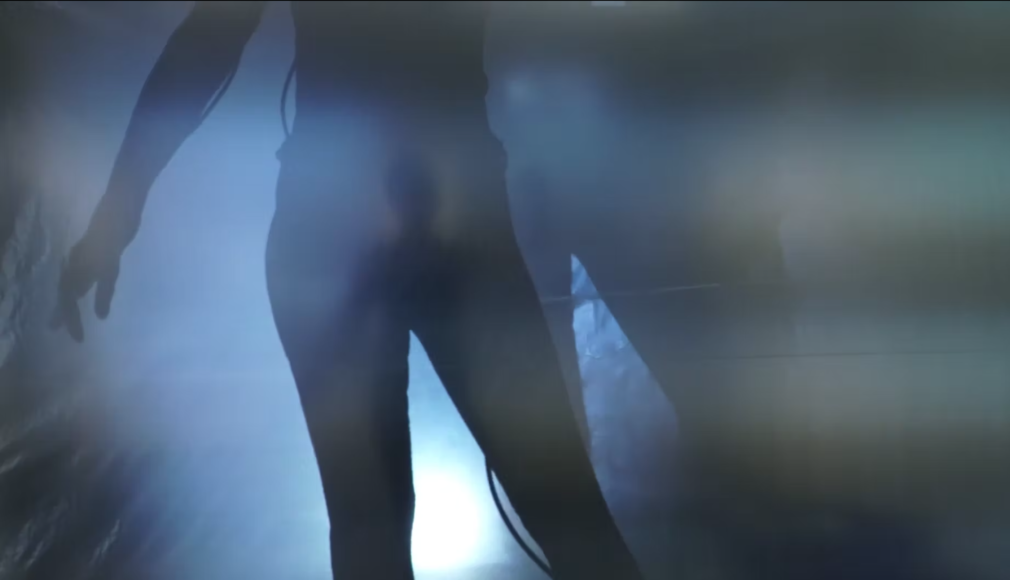 Vordiplom Deniz Kilicarslan
»Die WG der einsamen Charaktere«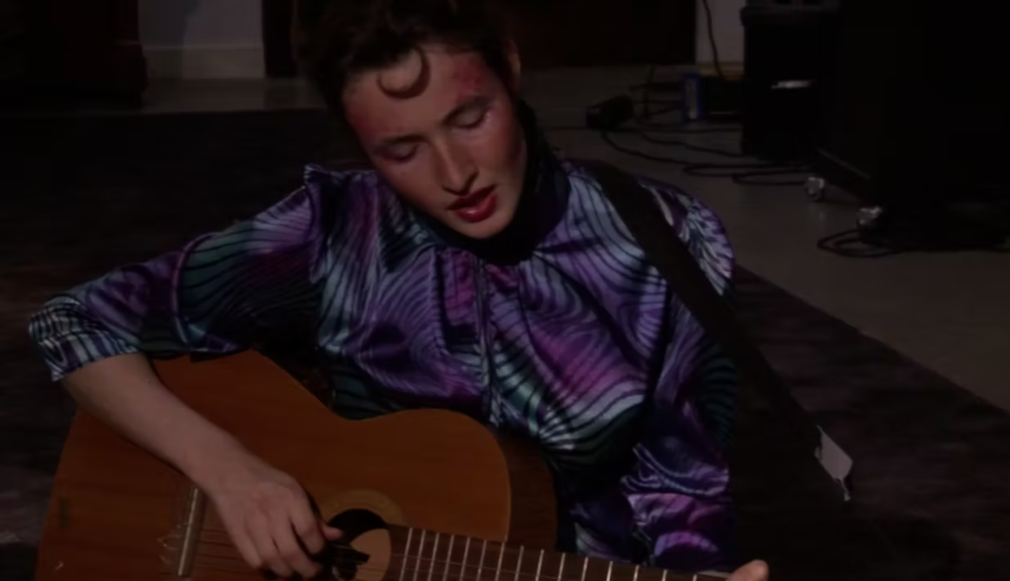 Diplom Nikolaus Kockel
»Abramovic Diorama«