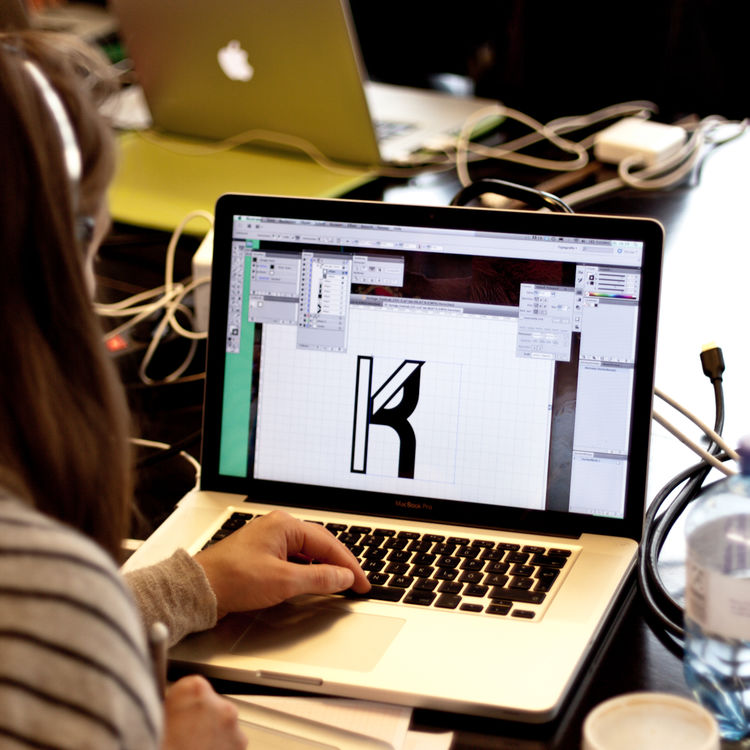 Typography - questions and answers
Klaus Hesse asked questions.
Sascha Lobe answered.
How dead is print?
I think that gradually we need to stop thinking in categories like this. Of course there will be print media in future, too, perhaps with a different emphasis than today, perhaps for representation, to archive messages and facts, or in other functions. In the everyday exchange of information, digital media will be even more important than today, but no medium will replace print completely.
The theory that print is dead has been around for twenty years, and meanwhile we have seen an incredible boom in books and magazines, for example. What distinguishes print media from digital media is above all their nature as objects and the associated possibilities of expression. In that sense, a typographer must also always think in terms of the object (paper, binding, format, size, etc.) when designing printed matter.
But again, to some extent we need to stop thinking in these media categories. What we have to do today is develop visual concepts that are independent of format and media. Design concepts that work in all media and that can be adapted. Spatial, object-based factors play a role along with the digital tasks, as does print, of course. The great thing about typography is that it is quintessentially independent of media. It works when it is chiselled in stone, on papyrus, plastic or screens. Carved, embossed, chiselled, drawn, printed, projected – you can always do good things with it.
Why are designers not servants?
That's a question that above all occupied the last generation of designers. It is intimately linked to the desire for authorship that nags practically every designer. I think it makes sense to develop a relaxed approach. We are not servants, but to some extent we certainly are service providers and we rely on our clients appreciating and drawing on our expertise. As in every profession, people with opinions and convictions have a harder time than those without.
Sadly, that defines our whole life, our whole society. At the end of the day, the way clients and designers treat each other is a social question, a question of the respect that you show one another. And that definitely goes both ways: clients who come to me usually have specific wishes. And I have to cater for that. I also object to design biotopes in which design is given special protection as an endangered species. What guidelines are we looking for when it comes to developing criteria for assessing good design? Design is not only supposed to make the designer happy.
Is typography clever or beautiful?
Both, ideally. It is probably beautiful when itis clever. It certainly doesn't work the other way round. No, seriously: first and foremost, typography is of course an expression of one of the most important achievements of humankind, it is the next step in the evolution of writing. Alongside mathematics, the invention of the wheel or the internet, I cannot think of anything more momentous. And without writing we would probably know nothing about the other important inventions or maybe just a few of us who were informed by word of mouth. In this respect, typography is damn clever.
Did you know that the earliest preserved writing is a kind of receipt on a clay tablet documenting a cattle purchase? It was a contract governing a transaction. The ox symbol (aleph) later evolved into .alpha. and then our letter A. This also shows that typography doesn't begin with the invention of printing, but rather much earlier, when people began to handwrite signs. So typography and the writing medium are quintessentially pragmatic tools, that should develop their beauty from function and harmonious arrangement. The connotations contained in a script design and layout that have become so important to us today must not be seen as prettifying factors, rather we use them as a means of coding. Who is talking with whom and wants to say something?
How new is new?
To put it flippantly, we are fated to find, to invent new things. Visual communication today cannot do without things that appear new. That's why the profession is so much fun! Even solutions that are right, and represent a logically consistent conclusion, become hackneyed in our perception. Ultimately, this is the result of the infinite possibilities of getting information. Of course, there are large areas in which this is not true in this exaggerated form. For example, information that is linked closely to particular fields or interests. Reading habits also change more slowly or remain static when identity-forming aspects are relevant. But whenever it is a matter of grabbing the attention resource, new things and change are the catalysts. And new is what people are not familiar with. Perception is simply the most subjective thing there is. That's why the modern must always fight against the fashionable. We have just had a huge eighties revival in design. But fashion intervals are getting shorter and shorter, and we are now already in the nineties again. Styles developed at the advent of desktop publishing are suddenly appearing again. And the younger generation are using them as new without a second thought. The history of visual communication is defined by such misunderstandings.
To generalise somewhat, you might say that graphic designers and typographers so far have not been able to liberate themselves from their lack of history. It's a very different story with architects and even fashion (!) designers. No architect graduates without getting to know about the history of architecture – that would be completely unthinkable! Our problem is that we usually create ephemeral products in a profession that is historically young, products that, unlike architecture, won't be standing around in the countryside or in cities for maybe several hundred years. Which makes documenting and analysing the history of design all the more important.
New York Art Fair
September 25 to 28, 2014 at MOMA PS 1
UP! Pop-Up Shop, the HfG Offenbach student bookshop project, was represented with a mobile booth for a week at the New York Art Book Fair.
And along for the ride were printed materials by the following HfG Offenbach students and graduates
Anastasia Ldadze, Benjamin Franzki, Boris Dörr, Briggi Brautmann, Cosima Peth, David Brose, David Schiesser, Debi Enzmann, Felix Tisch, Helene Deutsch, Henrik Peterson, Isabell Blumenthal, Jan Paul Müller, Janina Conner, Janine Bächle, Julius Klemm, Kathrin Stößer, Katja Velkova, KÖNIGSKLASSE, Lara Hies, Lena Schrieb, Lisa Hopf, Marco Poblete Young, Marcus Lüttgau, Maria Sulymenko, Marina Kampka, Mario Hombeuel, Martin Stark, Nadine Kolodzey, Ruben Fischer, Rudi Weisbeck, Sabine Schmidt, Sarah Marie Vesper, Silke Daub, Thekra Jaziri, Thorben Borgmann, Timo Lenzen, Viktor Balko.
The project was supervised by Prof. Sascha Lobe, Typography, and Prof. Eike König, Illustration and Graphic Design.
The UP! team in New York consisted of David Bausch, Timo Lenzen, Yacin Boudalfa and the two UP! initiators Young Eun Park and Marina Kampka.​
babel
The international typography symposium babel has been held at HfG Offenbach twice. It was conceived and organized by Prof. Sascha Lobe together with Typography students. babel explored questions relating to typography and contemporary visual culture in the digital world. The symposium did not attempt to present solutions, but rather to juxtapose a dynamic collection of differing, high-caliber positions. Over 300 guests including Typography students from Kassel, Karlsruhe, Mainz, Wiesbaden and Weimar attended the events.
babel #1 »non latin«
27. November 2012
Referent/innen
Peter Bilak, Netherlands
Oded Ezer, Israel
Johannes Bergerhausen c/o France
eps 51, Germany
Na Kim, Korea
Shoko Mugikura, Japan
babel #2 »so social«
26. November 2013
Referent/innen
Paula Scher, New York
Adrian Shaughnessy, London
Fanette Mellier, Paris
Vinca Kruk, Metahaven, Amsterdam
Hung Lam, Hong Kong
Will Hudson, It's nice that, London
Nikki Gonnissen, Niederlande
Sascha Lobe, Stuttgart​
Calendar
4 February 2015 until 19 February 2019
19 February 2019 Tuesday
until 23 February
07:30 PM, Klingspor Museum, Offenbach
4 February 2015 Wednesday
04:00 PM, Isenburger Schloss, rechte Kapelle
News
7 years ago
HfG Annual Report 2015
The HfG Annual Report 2015 has now been published. First and foremost, it showcases projects and diploma projects over the last two semesters and presents new lecturers. Designed by Richard Pruss with the assistance of Anne Krieger, the book also contains a DVD and a supplement.
7 years ago
TDC Awards
Works by students from the Typography field of teaching and by Prof. Sascha Lobe have won awards at the Type Directors Club New York (TDC) competition.