»I have always imagined that Paradise will be a kind of library«
(Jorge Louis Borges)
With HfG Offenbach having been founded in 1970, work began in 1971 on systematically assembling the library. It currently has a collection of artistic and academic works totaling more 46,000 media units. The collection is based on the university's classes, research areas, and artistic themes. The collections main emphases, art/history of art, architecture, visual communication, product design and theater studies are complemented by basic literature from the fields of philosophy, sociology, media theory and cultural history.
The library is located on the 3rd floor of the main building at Schlossstrasse 31. During opening hours it serves as a reference library to all those with an interest in the subject. Only members of the university can take material out on loan. For further details please refer to the rules governing the use of the library.
The HfG-library/media library has ten individual reading and work stations, and 14 group work stations. Catalog and Internet research is possible at five stations.
There are also a scanner and a photocopier available for use.
The library team consists of Christa Scheld, M.A. (Diplom-Bibliothekarin, Management) and Clara Weisel (Bibliothekerin, B.A.) as well as four student assistants.
We provide a service that includes providing information about the library's own collection and help with researching and procuring literature not available at HfG, as well as basic help with academic works. In the process we aim to correspond as little as possible to the negative model of a library created by Umberto Eco in his lecture "The Library".
Monographs
Magazines
CD/DVD
Degree theses
Online tutorials
The collection of monographs is openly accessible and arranged in line with a proprietary numerical system based on the main emphases of the library's collecting activities. It can be researched in full via the web OPAC and can for the most partbe taken out on loan.
On a regular basis the library acquire more than 70 German and foreign magazines. The current issues for the year of all the magazines acquired can be perused in the reading room. They cannot be taken out on loan. Due to a lack of space, issues from previous years are stored elsewhere and must be ordered in order to be taken out on loan. The magazines can be researched via the web OPAC as well as on the list below.
List of magazines:
In addition to the classic print media, the HfG library also has an extensive collection of CDs and DVDs.
These can also be researched in full via the web OPAC.
HfG's own Video Talks series of DVDs featuring selected recorded lectures given at the university embraces in excess of 70 titles and can be taken out on loan from the library.
The library also has a collection of all the degree theses written at the university since 1974. Now numbering more than 1,800, these theses from both departments can be viewed during opening hours. Copyrights prevent them from being taken out on loan.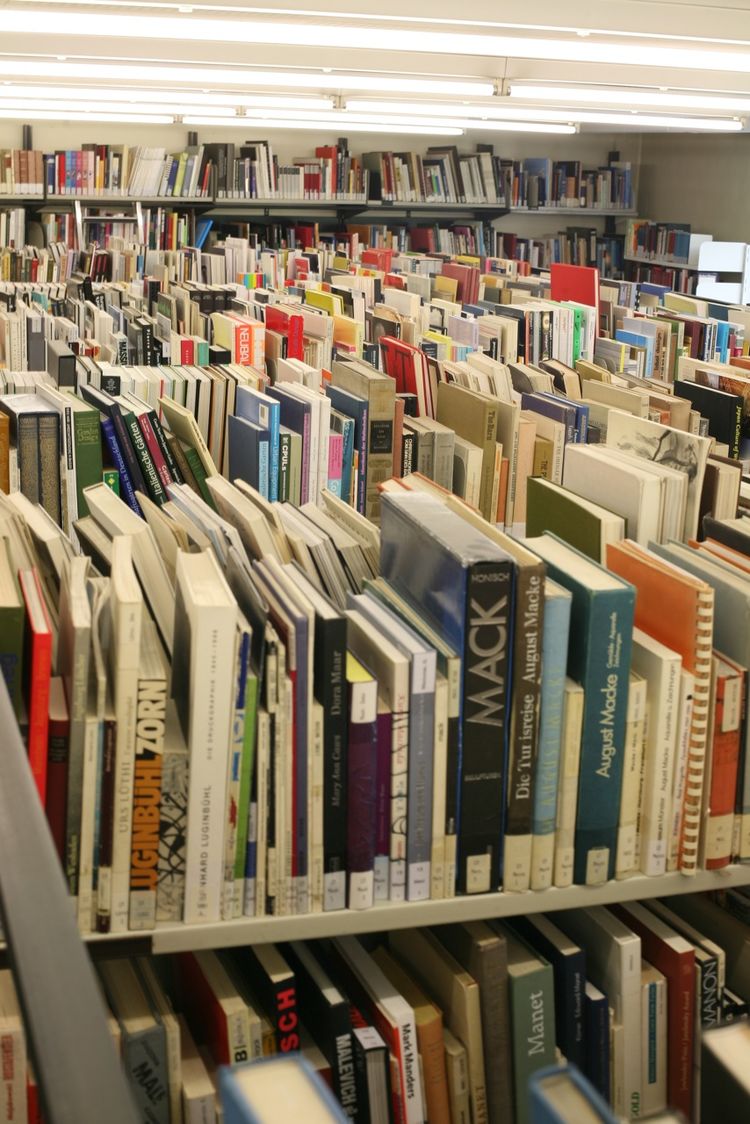 During opening hours the library is open to all those with an interest in the subject. Only HfG members can take material out on loan. The loan periods are:
for monographs: 4 weeks
for magazines: 2 weeks
for CDs + DVDs: 1 week
The loan period can be extended in person, by telephone, or by e-mail. Media already out on loan can be reserved.
Loan
New acquisitions
Special semester collections
List of publications
Suggestions for acquisition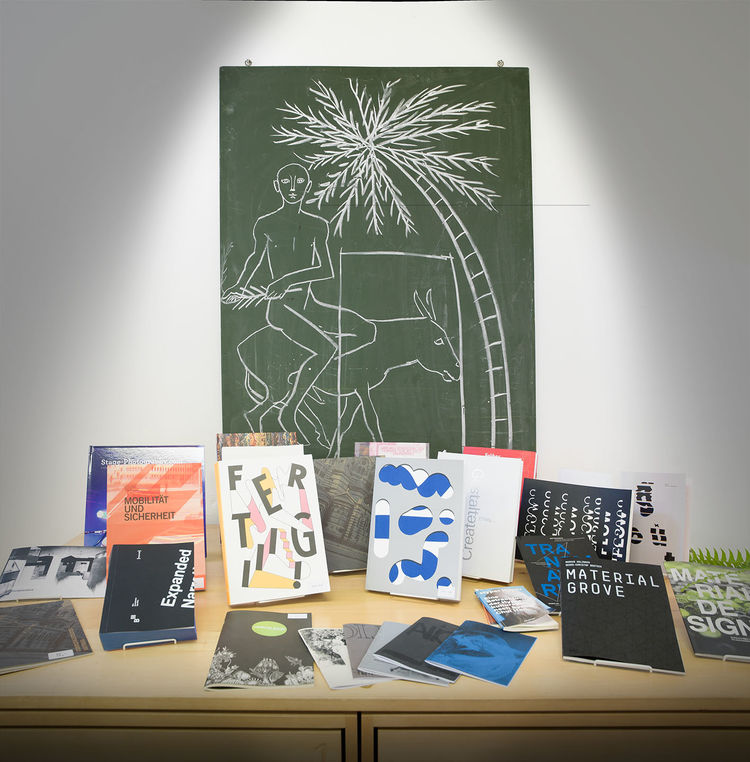 Am 1. Oktober 2015 ist die HfG-Bibliothek zwei Bibliotheksverbünden beigetreten: dem Verbund der Frankfurter Museumsbibliotheken (VFMB) und dem Südwestdeutschen Bibliotheksverbund (SWB).
Unter dem Dach des VFMB sind vor allem Museumsbibliotheken vereint, u.a. die des Museums Angewandte Kunst Frankfurt, des Filmmuseums, des Klingspor Museums Offenbach, aber auch die Bibliothek der Städelschule und des Rat für Formgebung in Frankfurt. Die Bestände dieser Bibliotheken werden in einem gemeinsamen Online Public Catalogue (OPAC) präsentiert.
Dem Südwestdeutschen Bibliotheksverbund gehören zahlreiche wichtige Bibliotheken aus den Bereichen Kunst, Medien und Design an, darunter große Bibliotheken wie z.B. die Sächsische Landes- und Universitätsbibliothek Dresden mit den Schwerpunkten Kunst ab 1945, Fotografie, Industrie- und Grafikdesign, die Universitätsbibliothek Leipzig mit den Schwerpunkten Kommunikations-und Medienwissenschaften, aber auch kleinere Bibliotheken wie z.B. das Documenta Archiv in Kassel. Auch die Bestände des SWB werden in einem gemeinsamen OPAC präsentiert, der über den Karlsruher Virtuellen Katalog (KVK) abgerufen werden kann.
Durch den Anschluss an den SWB ergeben sich bessere Vernetzungsmöglichkeiten für die HfG-Bibliothek: Katalogdaten können aus dem SWB übernommen werden, die entsprechend dem neuen internationalen Regelwerk für die formale Erschließung von Medien RDA (Resource Description Access) aufgenommen wurden; außerdem geht damit die bessere Wahrnehmung der HfG-Bibliotheksbestände im Wissenschafts- und Bildungsbereich einher, eng verknüpft mit der Option auf den Zugang zu künftigen Formen der Informationsvermittlung.
A
Acquisition wish
Archive
Audio visual media
B
Bibliography
Book exchange
C
Catalog
CD-ROM
CDs
Contact
Contact persons
Copier
D
Data protection declaration
Degree theses
Document delivery services
DVDs
E
Ebook / ebook reader
Electronic reserved reading shelves
Electronic magazins
E-mail notifications
Events
F
Fee scale
Focal areas of the collection
G
Guests
I
Internet access
L
Library commission
Library regulations
Library team
Library tours
Link list
Loan
Loan periods
Loan period prolongation
Location
Lockers
Loss of media
M
Magazines
Magazine locations
Material archive
Media cabinet
Media organization
N
New acquisition
Newspapers
O
OPAC
Opening times
Orientation system
P
PC workstation
Printer
Prolonging loan periods
Publications
Published articles
R
Reference collection
Registration
Reminder
Research
Reserving books
S
Scanner
Signature
Special location
Special semester collections
Subito
System
T
Team
The collection
Training sessions
Tutorials
U
User information
V
Video Talks
W
WIFI
Work stations
Y
Yearbooks